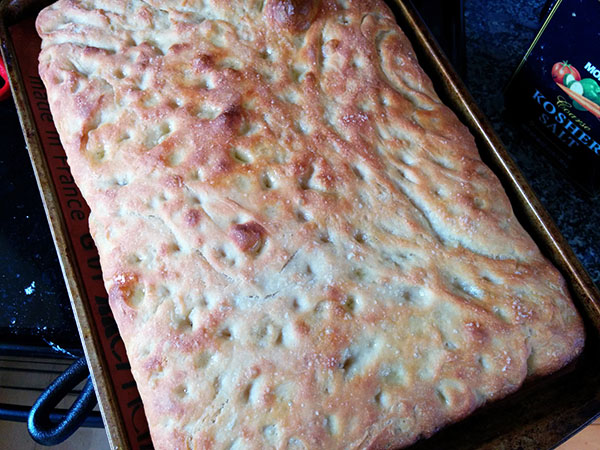 I seem to have trapped myself in a food loop. Since I've got a bit of a recipe backlog, I write about each thing some time after actually having made it. When I edit photos and write about each recipe, I often convince myself to make that recipe again. Is that like laughing at your own jokes or Liking your own Facebook posts? Maybe it's a faux pas.
Anyways, the call is strong with this one. This focaccia is delicious, impressive, and very easy. I've never met a focaccia I didn't like (hello, fried bread), but this one is the stuff I dreamed of making, with huge holes for spread or tomato drippings, and a crunchy, salty crust. Yum. It's a flexible recipe, but it'll be at least half a day before the bread is ready due to a long rise in the refrigerator. But it's very easy.
Saltie's Focaccia
From The Wednesday Chef, who got it from the Saltie cookbook
6 1/4 cups bread flour
2 tablespoons salt
1 teaspoon yeast
3 1/2 cups lukewarm water
1/4 cup olive oil, plus extra for drizzling
course or kosher salt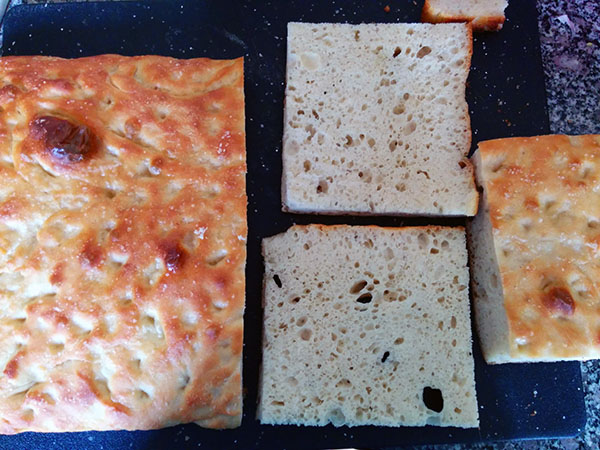 In a very large bowl, mix together the flour and salt. Sprinkle the yeast onto the warm water and wait a few minutes, then pour the mixture into the flour. Stir until a sticky, lumpy dough forms, but there isn't anymore powdery flour. Pour your 1/4 cup of olive oil around the edges of the bowl, turning the dough to coat. Cover the bowl and let the dough rise in the refrigerator for anywhere from 8 hours to 2 days.
When you're ready for bread (yay!), oil an 18 by 13 inch baking sheet. I threw my Silpat on and then oiled for good measure. Dump the focaccia dough onto the pan, using your hands to spread the dough over the entire sheet. Cover the dough with a damp towel (I prop the towel up using small spice containers surrounding the pan), letting the dough double. The time it takes will vary, but it took about 30 minutes when I made it.
While you're waiting, preheat the oven to 450 degrees Fahrenheit. Pat down the dough to a roughly even thickness of about 1 inches. Then, use your fingers to make little indentations all over the surface, like you're miming playing the piano. Drizzle the dough with olive oil, and sprinkle generously with your coarse or kosher salt.
Bake until it's golden brown all over, about 30 minutes. You may want to rotate it for even baking after 15 minutes or so. Let it cool slightly, then slide out of the pan. If you're not eating the entire thing the same day, slice off the portion you're not using, wrap it tightly when it's at room temperature, and then freeze.