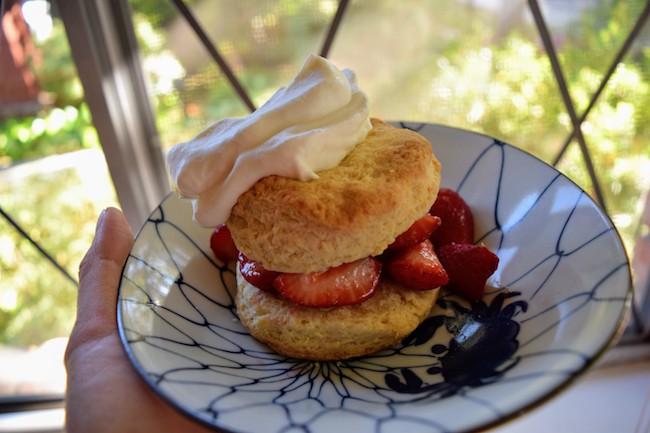 Hello from the sky! The monitor on the seatback tells me that I am somewhere over Kansas right now, or maybe the most eastern part of Colorado? The map is small. I'm heading back to California from a whirlwind East Coast trip, where I slept in 4 different locations (including in the middle of a triple-decker bunk bed), ate Xi'an food twice, cried approximately 30 times at a wedding, and got a dear friend into Jane the Virgin.
My dinner today is strawberry Pocky (don't worry, I'm very fed, see above double Xi'an spicy noodles), which are very fun on a plane when I can't really taste anything, so the sweet + crunchy is amazing. When not on a plane, and making a mess, carrying liquids, and having enough space to straighten my arms aren't concerns, I love strawberry shortcake. For a while, I had this confused with shortbread (also a fan, and also, names are confusing). But fresh strawberries and cream biscuits and whipped cream? It's the food of dreams. Make it now, while strawberries are all over the place!
Strawberry Shortcake Stack
Adapted slightly from NYT Cooking
2 pints strawberries (washed)
Shortcake:
1/4 cup sugar
4 cups flour
3 Tablespoons sugar
1/4 teaspoon salt
5 teaspoons baking powder
1 cup butter, slightly softened
Whipped cream:
3 cups whipping cream
1 Tablespoon sugar
1/4 teaspoon vanilla extract
Hull (I use the paring knife method) and slice the strawberries into half or quarters, depending on their size. Sprinkle 1/4 cup sugar over the berries and gently turn over with a spoon. Allow them to macerate like this for at least 30 minutes while you make the rest of the ingredients.
Preheat the oven to 450˚. Prepare a cutting board by lightly dusting it with flour.
Sift together your dry ingredients – flour, sugar, salt, baking powder. Separate out 3/4 of your butter and add it to your dry ingredients, working it in with a pastry cutter or a fork, or with your hands (quickly). The mixture will look like coarse sand once the butter is combined.
Add the 1-1/4 cups of the cream and gently knead together with your hands, working the dough as little as possible. Gently knead the dough just enough so that it is mostly uniform, then roll it out onto your floured cutting board into a 1/2 inch thick slab.
Use a biscuit cutter, if you have one (I used a mason jar because I am a millenial) to cut into rounds — around 8 of them.
Line a baking sheet with a baking mat or parchment. Melt the leftover 1/4 butter.
Place one shortcake round on the baking sheet, then brush it with a little butter. Top it with another shortcake round. Repeat until the shortcake rounds are done. It's not a big deal if you have one left over without a buddy… that one can be a taste test! Brush the top rounds with some butter for good measure.
Bake 10-15 minutes, until the tops are lightly golden brown and the bottoms have some color. Remove from oven when done and set aside until you're ready to serve.
Add the remaining tablespoon of sugar to the remaining cream. Add the vanilla extract and beat until it forms a loose whipped cream.
When you are ready to serve, bring it all to the table and pull apart the shortcakes, layering with berries and cream (however each eater would like).