The best part of dutch babies is, when you're preparing one, you can announce, "I'm making a dutch baby! … not the kind that requires a Dutch man (or woman)." So, you know, what are you waiting for?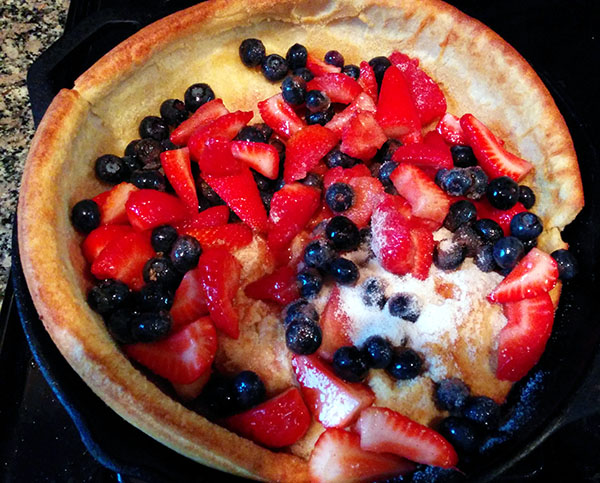 This dutch baby is a giant, eggy, crowd-pleasing pancake that requires less than 10 minutes of work, total. Seriously. I went through a phase where I ate an entire one every night. I wish I were kidding, but it was just too easy for me to not do it. Eventually, I ran out of eggs.
I'll keep it brief because I really want you to go make one right now.
Berry Dutch Baby
Adapted from Joy the Baker and Smitten Kitchen
3 eggs (preferably at room temperature, but I won't tell if they're not)
2/3 cup whole milk (same deal)
2/3 cup all-purpose flour
dash of cinnamon (optional)
pinch of salt
4 tablespoons of butter (notes on salted vs unsalted below)
a few handfuls of fresh berries, washed and chopped
1/4 cup granulated sugar
Preheat oven to 425 degrees Fahrenheit.
Whisk together eggs, milk, flour, cinnamon, and salt. You don't need to go crazy, here — just mix until the batter is combined. It can be a little lumpy, still.
In a 9 or 10 inch cast iron pan, melt butter. When I used salted butter, the dutch baby developed a slightly salty crispy crust that I enjoyed but might not be for everyone. When I used unsalted butter, it was just… buttery. So, you can choose, there.
Pour in the batter and transfer to hot oven immediately. Bake for around 20 minutes, until golden brown to your taste.
While the dutch baby is baking, sprinkle some of your sugar onto the berries and mix.
Ideally, make sure a crowd is present when you pull the dutch baby out of the oven, since it will be very puffy. Scatter the berries on the center, sprinkle with the remaining sugar, and enjoy immediately.