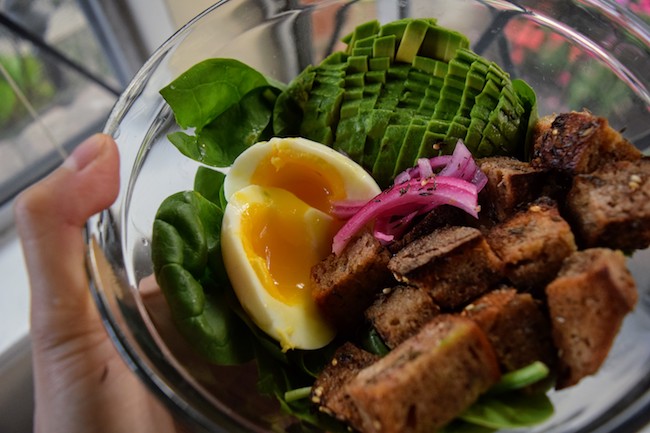 I'm on a bit of an (intentional) microorganism kick in the kitchen lately. I've been watching a lot of It's Alive. My cultured butter was aggressively unphotogenic, and the half-sour pickles in the fridge are of slight concern to me because I realize that my container isn't truly airtight. But, my sourdough starter is still kicking! It's a little sleepy these days, but I was able to rouse the starter enough to make a modest loaf last week.
Whenever I make a loaf of sourdough, or whenever I pick up a bag of avocados from Costco, my entire week then becomes focused around maximizing how much I can reasonably eat bread and/or avocados. If I manage to match up the times that I have a loaf of quickly-staling bread and quickly-mushing avocados, then we enter a harmonious avocado toast season. And, now, "avocado toast salad" season! I really do like to salad all the things, but this is a fun one, I promise! Salad greens+ a handful of warm za'atar croutons + pickled red onions + a medium-boiled egg + half an avocado. If your onions are already pickled and you've got bread handy, this meal comes together in like 15 minutes.
Avocado toast salad

1 slice of crusty bread
1 Tablespoon olive oil
2 teaspoons za'atar (or more to taste)
pickled red onion
1 egg
1/2 avocado
salad greens or spinach
Preheat your oven (or small toaster oven) to about 400˚F and put some water on to boil.
Cube the bread and drizzle with olive oil. Sprinkle on za'atar (and additional salt to taste, if your za'atar does not already include salt). Toast the bread while you prepare the other ingredients, until it's your preferred crouton texture — I like mine crusty on the outside but still soft on the inside.
Once your water is boiling, carefully add the egg. Boil the egg for ~7 minutes (time varies a bit depending on the size of your egg and how cold it was) for a medium-boiled egg. Just before assembling the salad, slice the egg in half
Slice your avocado into thin slices, cubes, tiny "pixels," whatever you want.
Assemble the salad.