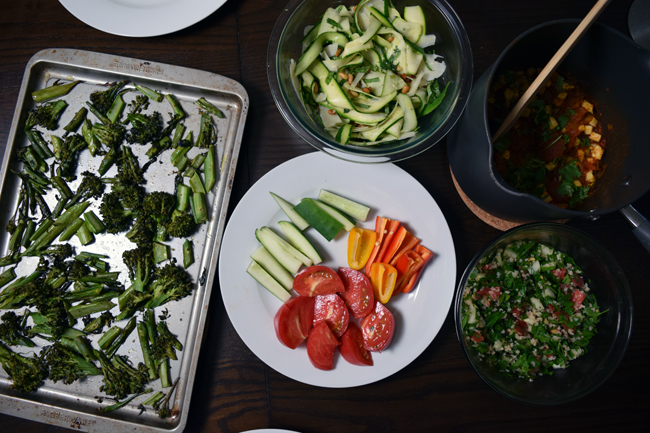 It's the last few days that really feel summery! Time to get it all in — wear your white pants*, listen to upbeat pop about ambiguous summertime things, and read on the beach somehow. But actually, who am I kidding, we all know that I mark seasons the way I mark the rest of my life: by what I'm eating. So, actually, fire up the grill, eat stone fruit and watermelon while letting the juices drip to your elbows, and make these salads.
*Side note, I somewhat recently acquired some relatively nice white pants on super clearance, and I'm terrified to wear and wash them. How do people do it? When I wear them, I feel like I can't eat or bike, which are both things I do daily if not multiple times a day. I haven't washed them because I assume the rest of my clothes will tint them. How do I adult? Please send help.
Okay, clothing anxiety aside, back to the summer salads. It's a great time for salads because you don't have to use the stove or oven as much, and also, you don't feel bad about eating a ton of popsicles after a meal that's got two salads in it, right?
The first is a super simple zucchini salad. I'm not actually the biggest fan of zucchini, so I rely on cheese, pine nuts, and a generous amount of olive oil here to make the raw squash tasty. It works, but it feels a little cheap. Still, not a bad way to send summer out. Seeya next year, zukes!
The second is a classic tabouleh. I learned the lemon juice trick from a housemate of mine in college and have never turned back. I think there are two tabouleh camps, right? The parsley salad garnished with bulgur, and the bulgur salad garnished with parsley? I wold say I'm actually square in the middle, but nobody likes that, so if I had to choose, I'd go heavy on the parsley. Mo flava!
Short, simple recipes today, so I'm presenting two. I know, recipes without somewhat Asian-inspired adjustments and/or extra complications are not my usual situation, here. I like to keep you guys guessing.
Raw Zucchini Salad with Pine Nuts
From Epicurious
2 Tablespoons extra-virgin olive oil
1 Tablespoon lemon juice
2 large pinch of flaky salt
1/4 teaspoon freshly ground black pepper
2 or 3 large zucchinis
1 small bunch of basil / 1 big handful of basil leaves
2 Tablespoons cup pine nuts, toasted
Small knob of Parmesan cheese
Whisk together olive oil, lemon juice, salt, and pepper.
Using a peeler, shave the zucchini into thin ribbons. Do the same with the Parmesan, if possible. If your knob is very small, grating the cheese may be easier. Chop or tear the basil (whichever you prefer).
Arrange the zucchini in a bowl, and top with cheese and dressing. Add warm, toasted pine nuts and serve immediately.
Tabbouleh, without adjustment
1 Tablespoons dried bulgur
1/4 cup lemon juice
1 large bunch flat-leaf parsley
1 large tomato
1 Tablespoon extra-virgin olive oil
salt and pepper to taste
Soak the bulgur overnight, or, at least for a few hours in the lemon juice and enough water to cover the grains handily. When the bulgur is edible but still a bit chewy, it's done, and you can drain it. No need to rinse.
Chop the parsley and cube the tomato. Toss in the soaked bulgur. Dress with a generous drizzle of olive oil, more lemon juice if desired, and salt and pepper to taste.