In my defense, I didn't start out to make "fusion" tacos. It just happened because hunger stroke, and I had not gone to the market that day. I basically always just want to eat sauteed vegetables with soy sauce (and a fried egg), but generic Asian-ish stir fry doesn't seem to appeal to my roommates the same way it does to me. So we end up with, I don't know, soy sauce in all of our foods.
While I wish I could say I got inspired by discussing flavor profiles with my ethnically diverse community or whatever. But, I don't know, I'm Asian, and we had tortillas.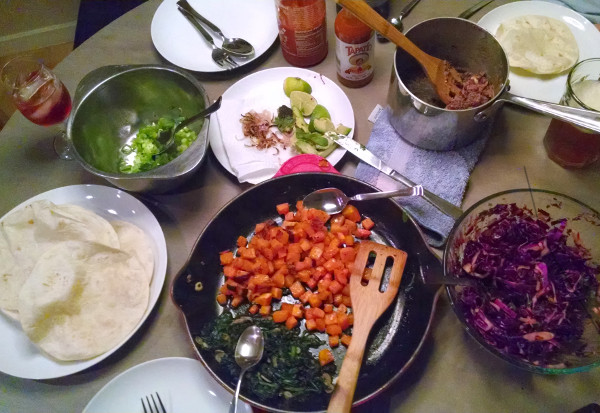 I've decided writing recipes is tedious, and reading them must be even more boring, so I'm done with that. It's my secret blog, and I do what I want.
From top left, going clockwise:
Finely chopped scallions and cilantro for toppings

Crispy shallots (slice shallots, fry in hot oil with a high smoke point, drain on paper towel) and limes
Refried beans, vaguely Asian (sautee diced onion and garlic, add can of beans, mash with oil and Chinese five-spice)
Red cabbage slaw (slice cabbage thinly, dress with lime juice, soy sauce, and a little maple syrup)
Roasted butternut squash and sauteed spinach
Warmed (and puffed!) tortillas
Whew. Wasn't that easier?