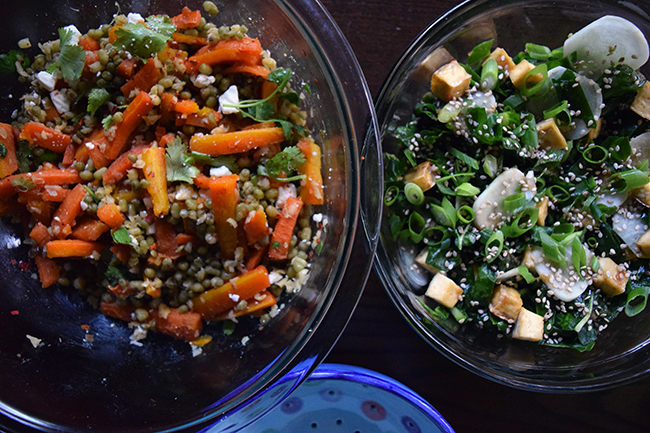 The temperature outdoors and my desire to cook anything are inversely related. So, with the temperature creeping up, I've been leaning heavily on the "double salad" meal, epitomized by the above. One is the usual affair of dressed fresh greens. But don't worry, I still strongly subscribe to the idea that vinegary lettuce doe snot a meal make. This is where the other salad comes into play. This salad is usually a bit more filling, with legumes, or hearty vegetables, or grains. It's required that this salad keeps well, so I can sneak bites straight out of the Tupperware, after dinner, or coming home from a bike ride, or even as I'm packing it up.
Double salad meal, you guys. It's not as grim as it sounds. In fact, it's sort of delightful, especially when you've got power players like Ottolenghi on your side. Many of you know that I'm, like, really into Ottolenghi recipes. What can I say? The man knows how to celebrate a vegetable. Or legume, as it were. I love a good mung bean, but I'm used to having them as dessert (more on being seriously Asian and eating sweet beans as dessert later). I think this recipe would convert those on the fence, though, with the tangy dressing, sweet carrots, hearty mung beans, and salty pockets of feta.
Carrot and Mung Bean Salad
Adapted from Plenty More, but also online on The Guardian
2/3 cup dried mung beans (green)
4 Tbsp olive oil
2 cloves garlic
1 tsp cumin
1 tsp coriander
1 tsp crushed red pepper
2 Tbsp white wine vinegar
3 large carrots
a pinch of sugar
1 1/2 cups cilantro
lemon juice / lemon zest
small handful of feta cheese, crumbled
Preheat oven to 425˚F.
Bring a saucepan of water to boil. While you are waiting for water to boil, mince the garlic, wash the carrots, and cut the carrots into carrot sticks that are roughly pinky-sized.
When water's boiled, add the mung beans and simmer until they are just barely done, about 20 minutes.
While the beans are cooking, add the carrots, 1/3 cup water, 2 tablespoons of oil, and a pinch of sugar to a roasting pan. Toss to coat, and roast in the preheated oven for about 30 minutes, until the water has evaporated and the carrots are slightly caramelized. This makes pretty soft carrots, which I eventually came around to, but if you prefer a firmer texture, skip the water and sugar and just roast the carrots, maybe finishing with a touch of honey.
When the beans are done cooking, drain and add to a serving bowl. Immediately drizzle 2 tablespoons of oil, minced garlic, cumin, coriander, red pepper flakes, and vinegar, while the beans are still hot. Mix gently.
Add roasted carrots, mix, and finish with cilantro, feta chunks, and salt and pepper to taste.