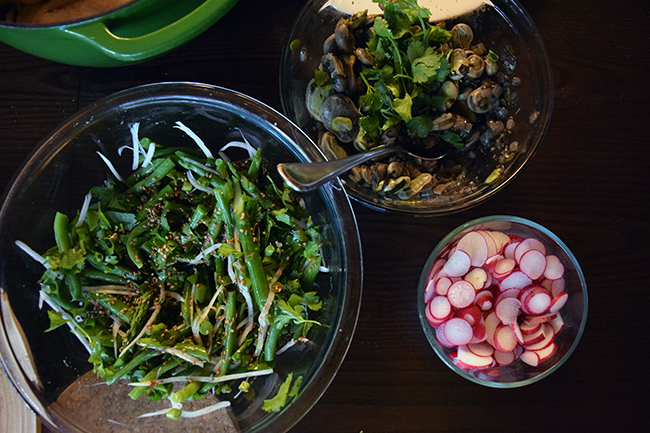 Things that give me inordinate satisfaction:
book series whose spines make a picture when lined up on a shelf (Hank Green agrees.)
when an ordered list of titles ends up being in alphabetical order
anything in rainbow order
a well-named sequel
I feel like those are related, somehow. Is that crazy? They seem satisfying in the same way to me, which, I guess, is assurance that everything is planned out and fits neatly. I'm not really the sort of person whose life could be described by the words "planned out" or "fits neatly," so maybe I just crave that in things like book titles. That said, I think the best example of a well-named sequel is the 2nd The Fast and the Furious movie, 2 Fast 2 Furious. So good.
A fair example (though, to be honest, it's nowhere near as good) is the follow up to Ottolenghi's Plenty, called Plenty More. Ottolenghi fans among you all may have picked up that I really like Plenty. I saw … More at Costco, so I obviously snatched it up, along with 8 things of dental floss. I also really like flossing.
As usual with Ottolenghi recipes, my versions are pretty revised, just because I don't think it's worth it to traipse around town looking for exact slightly exotic ingredients, but I like to think I capture the spirit of it all. I've made a few recipes out of Plenty More so far and like it a lot. It's pretty much what I wanted, which is… more Plenty. Beautifully photographed recipes that embrace vegetables with a slight international flair? I mean, that's more or less what I aspire to, right?
Here's a spring salad, quite revised, from the book, which I served with his Fava Beans with Lemon and Cilantro, Zucchini "Baba Ghanoush", and Shakshuka. And also homemade whole wheat pita.
Ottolenghi's Spring Salad (ish)
Adapted from Plenty More (recipe)
1/2 bunch asparagus
handful green beans
daikon, approx palm sized piece
small handful cilantro
1 teaspoon sesame oil
1 tablespoon olive oil
1 tablespoon lemon juice
pinch of crushed red pepper flakes
1 tablespoon sesame seeds, toasted
salt & pepper
Bring a large pot of water to boil.
While waiting for the water to boil, trim the asparagus and green beans. Cut the asparagus on a bias, making 3 or 4 slices per stalk.
Prepare a bowl of cold, or, preferably iced, water.
When the pot of water has come to an aggressive boil, dunk the asparagus and boil for three minutes or so, until barely done. Remove from the boiling water using tongs or a slotted spoon and submerge in the iced water to keep it from cooking more.
Repeat, dunking in the green beans and boiling for about five minutes, until barely done. Remove from the pot and move to the cold water as well, when done. Drain the vegetables well, and move to a serving bowl.
Cut the daikon into strips, adding to the serving bowl.
Combine sesame oil, olive oil, lemon juice, and crushed red pepper in a small bowl, adding salt and pepper to taste.
Just before serving, scatter cilantro on the vegetables and drizzle dressing over, tossing lightly. Top with toasted sesame seeds.