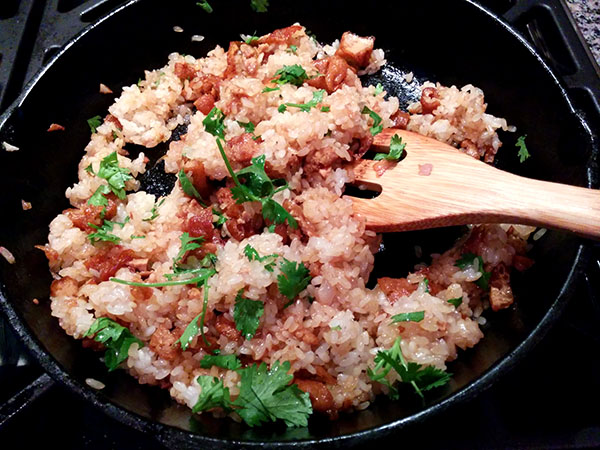 When Thanksgiving season rolls around, I get very strong and specific food cravings. It's hard not to, since the weather's just turned cool (well, cool for California anyways), and all my conversations inevitably turn to who's making what delicious dishes this year. While my mom and I haven't actually gotten a game plan yet (reminder to self, decide what to do for Thanksgiving), our national tittering about turkey just makes me crazy for Thanksgiving food.
Last week, I thought I might pass out if I didn't get mashed potatoes right then and there (I survived). And I've been completely preoccupied thinking about pretzel bread stuffing for ages, now. But something I come back to every year is savory, satisfying, sticky rice. I love anything made with sticky rice, but this particular dish also has nostalgic appeal. My mom has made it for Thanksgiving a few times as Asian-style stuffing. My ideal Thanksgiving meal might actually just be two kinds of stuffing and nothing else. I've sort of cobbled together a few recipes and my memory (and replaced some sausagey parts for tofu, and removed shiitake mushrooms because I can't get myself to like them) to make my rendition of you fan, literally, Taiwanese oily rice. Mmm, with a name like that, you know it's going to be awesome.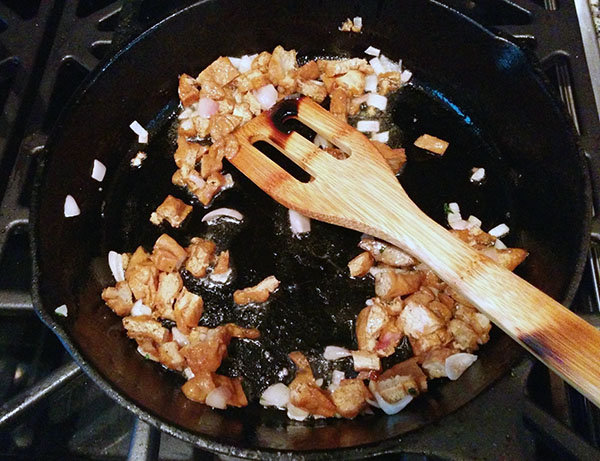 You fan (fried mochi rice)
1.5 cups of sweet/glutinous/sticky rice, soaked in water overnight
1 shallot
1 clove of garlic
A few servings of seasoned tofu
Small handful of cilantro, chopped
Soy sauce (to taste)
Steam the sweet rice until it's just barely done. You may need to stir or flip the rice to get it to cook evenly. This took me about 20 minutes, but I think it varies depending on the shape of the container holding the rice and how you're cooking it. I've found using a steamer to be the most effective, but in a pinch, you can cook it stovetop like you would normal rice. Use much less water, since it's already been soaking.
Thinly slice the shallot and mince the garlic. Then, toast these aromatics in a large, generously oiled pan until fragrant. Add the tofu (or sausage, or mushrooms, if you like) and warm through or brown, if you'd like. Then, add the rice and stir fry all together for a few minutes. Season with soy sauce as you are stir frying. Since the rice is so sticky, it really needs to be worked pretty hard to get the ingredients to incorporate.
When the rice is sufficiently fried (I do this until it smells slightly ricey toasty in the air), remove from the pan and adjust soy sauce and pepper. Garnish with cilantro and serve hot. Leftovers reheat pretty well, too.