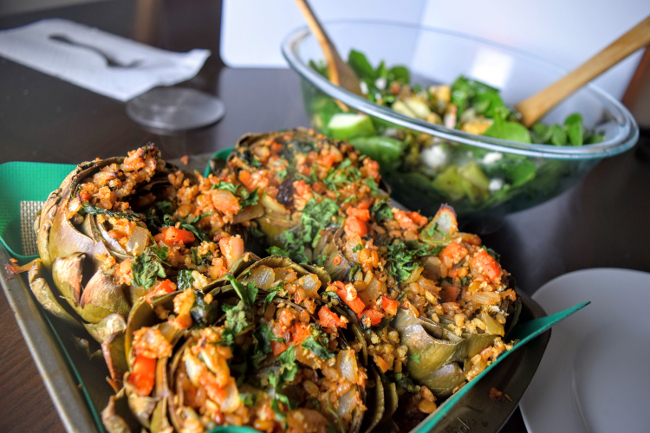 I had a whole thing going about "stuffed artichoke hearts" for Valentine's Day, which I thought was going to save me from not having actually prepared anything thematic for today. Then I realized that you don't actually stuff the hearts, you stuff the entire 'chokes. And there might be a slightly less G-rated themed post about stuffing, but I can't figure out a way to make those jokes without putting us all off of eating the artichokes. Which, why would we do that? Artichokes are delicious.
So, yeah, I'm less prepared than my delightfully adorable yoga instructor this morning who did a "heart" themed class, and also less prepared than the decidedly sassy but practical instructor yesterday who did a hip themed class. (I promise, those are the only two times I've been in the last few weeks; I'm still your friendly, mostly inflexible blogger.) My Valentine's post has to do with stuffing a food that may have a part that's called a heart, but there's an unromantic amount of carnage and a surprising amount of hair involved, so we'll just leave it unthemed, shall we?
I'll also be honest — stuffing the 'chokes was fun and festive, but half the time, I sort of wished I hadn't bothered and was eating plain chokes with the stuffing on the side. None of the hip bloggers actually stuff their turkeys anymore, right? So maybe artichokes are next. In any case, I wouldn't blame you if you served them separately, mainly because then you can eat the artichoke leaves with mayonnaise– I mean aioli, or good old melted butter. Both the artichokes and the stuffing are very good, and together they're a pretty plate, so I'd say, stuff them for the vegetarian dinner party centerpiece, but leave them separate for your weeknight dinner.
Spiced stuffing
2 cups of cooked rice and lentils, in whichever proportion you like
1/2 large onion
2 cloves of garlic
1 large carrot
1 handful baby spinach
1/2 cup panko
1 Tbsp cumin
1 tsp garam masala
juice from one lemon
pinch red pepper flakes (optional)
I had some leftover stuck-pot rice (spicy edition) so used that as my cooked rice and lentils, here. I'd say any grain and/or pulse mixture would work out fairly well, though larger beans might not fit into the crevices of an artichoke very well.
Dice the onion and carrot, and mince the garlic. Heat up a bit of oil in a skillet and fry the onion, garlic, and carrots until soft. Add the spices and red pepper flakes midway through, and reduce the heat to medium. Add the cooked rice and lentils and stir gently until heated through. Turn off the heat and add the spinach, incorporating into the warm mixture until the spinach wilts. Add in the panko/breadcrumbs and stir just to combine. Sprinkle with lemon juice.
Stuffed artichokes
Adapted from The Kitchn
4 artichokes (medium-sized)
spiced stuffing, from above
handful of chopped parsley
Trim the artichokes by cutting off the stems and sawing off the top inch or so of each artichoke. Set the artichokes, stem side down, in a large pot and fill pot midway with water. Add salt to water and bring the artichokes to a boil, covering the pot, for 30 minutes.
Preheat oven to 400˚F.
Let the artichokes cool until you can comfortably handle them. Now we're going to remove the hairy "choke" part of the artichoke so you can just get to eatin' at the dinner table. Start by carefully plucking out the pale leaves in the center of the artichoke. Keep plucking until you see the hair layer. At that point, use a small spoon to carefully scrape away the hair, trying not to remove too much of the tender heart.
Repeat with remaining artichokes.
Fan out the artichoke leaves slightly and arrange in a pan. (Loaf pan works well for two, and a small square pan works well for four.) Scoop in the stuffing, working it into the gaps between leaves.
Bake in your preheated oven for another 20 minutes or so, until the bottom leaves of the artichokes are detachable with a gentle tug.
Garnish with parsley.