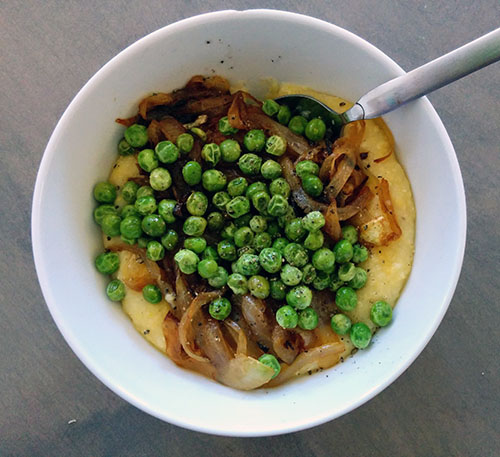 I'm coming up for air from my days-long television-marathon, barely-leaving-the-house party to say hello. Sometimes you just get in a mood, you know?
One of my main activities has been reading witty Scandal recaps as I make my way through the entire series. How do I get a gig where I watch television and then make snarky comments about it? I wonder, if you're a professional recapper, do you enjoy television less?
I thought for a good few minutes about how I might gracefully transition from musings on television recaps to my recipe for the day, and I can't figure anything out that's not embarrassing. So, I don't know, here it is, the continued ramblings of a crazy lady.
I love polenta deeply (and also grits, which seem mostly the same to me) and have been wanting desperately to throw a polenta party for some time now, though I keep wimping out of it. But, polenta party of one? Yes.
Polenta with peas and caramelized onions
1/4 cup of polenta cornmeal
1 cup of water
generous pinch of salt
pat of butter
grated Parmesan cheese for topping (optional)
1/2 onion
handful of peas (I used frozen)
Bring water to boil. Add in polenta while whisking, then sprinkle in salt. Cook for around 30 minutes, stirring/whisking thoroughly every few minutes.
While the polenta is cooking, slice the onion into half moons as thinly as possible. Oil or butter a skillet, and caramelize the onions over low to medium heat until they are golden, 20-30 minutes. Add a little bit of water to the pan if they start drying out.
I just defrosted/heated up the peas in the corner of the hot skillet because I'm lazy, but you can actually boil them if you're not extremely dish-averse like I was that morning.
Scoop polenta into a bowl. Top with onions and peas. Season with additional salt and pepper if desired, or, grated cheese.