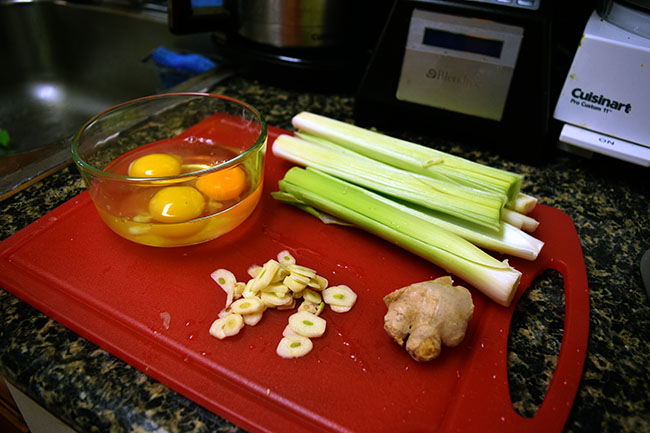 Does everyone feel like they are just barely on the precipice between "real" adulthood and falling apart? Every day that I postpone laundering my bedsheets or scheduling a haircut makes me wonder how my parents and other real adults managed to live their lives, often with significantly more responsibilities than me… like nurturing human life. I literally let a cactus die the other day. And I still can't manage to get my laundry done.
I have to do laundry tonight… can you tell?
A meal that I fall back on all the time when I'm feeling like I might not be able to feed myself like a real adult is fried rice. It's reasonably legit, but in reality, it's made with mainly pantry / refrigerator staples, is minimum effort for a satisfying meal, and easily made in a huge batch to eat all week. Also, it's delicious. When I made this batch, I listened to Serial for an entire evening while making and munching on the rice. Basically, perfect evening.
This particular variety is a little atypical for me, but I had leeks lying around and remembered an interesting method to fried rice that I'd read in the NYT. Mine didn't turn out nearly as "minimalist" as theirs, but here's my take. I liked the mildness of the silky leeks, and cooking the rest of the ingredients in the oil infused from crisping the garlic was smart, too.
Crispy Garlic and Leek Fried Rice
Inspired by NYT
3 eggs
3 cloves garlic
2 or 3 leeks
1 small knob of ginger
1 carrot
2 or 3 cups of cooked rice
1/2 to 3/4 cup frozen peas
soy sauce
mirin
vegetable oil
Vegetable prep. Slice the garlic thinly. Slice the leeks lengthwise and rinse carefully. Remove the dark green parts and roots. Slice the remaining white/light green pieces thinly. Grate or mince the ginger. Finely chop the carrots.
Heat up some vegetable oil in a large pan. Beat the eggs lightly and scramble until not-quite-done. Remove the eggs from the pan and set aside.
Add more oil to the pan and wait for it to start shimmering. Carefully fry the garlic slices until golden. Remove quickly and let drain on a paper towel.
Without wiping down the pan, add leeks, ginger, and carrots. Stir fry the vegetables until they are cooked through.
Push vegetables aside (but don't remove from the pan). Add a little oil in the empty spot, and then add the rice. Break up the rice, incorporating vegetables. Add the peas and mix in, as well. Stir fry until the rice smells a little toasty. Add the eggs back in toward the end, breaking into smaller pieces.
Season with soy sauce and mirin to taste.
Serve sprinkled with the crispy garlic.