I'm not eating a gluten-free diet. I think every single previous post to this thing has had a gluten product or 20 in it. I love bread, pasta, and preferably, both. With white rice. And potatoes. And maybe a breadcrumb topping?
Glad we got that out of the way. I also like things that aren't carbs (sometimes). So I thought I'd try something new and make this gluten-free, generally healthy "bread" from My New Roots. You remember it, the one that rocked the food blog world like a year ago? It's made mostly of oats and nuts, bound together with ground psylium seed husks, which is this crazy absorbent powder sort of like ground flaxseeds. It's also a colon cleanser, so, you know, there's that.
I've made it a couple times now, so I feel like I can safely say that it's really good. It's satisfying and flavorful and an awesome vessel for toppings. It's not really like crusty, fluffy bread in many ways, but it's really good. I hesitate to call it "bread" for that reason, so I've settled on the vaguely unappetizing name of Alternaloaf.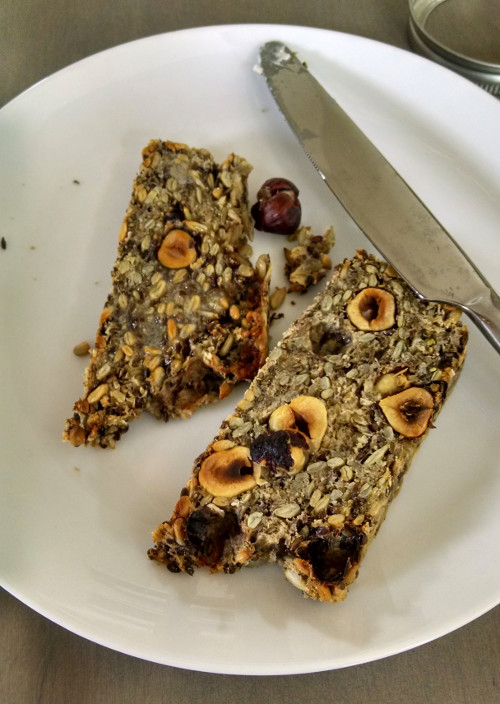 Alternaloaf
Adapted very slightly from My New Roots
1 cup sunflower seeds
1/2 cup flax seeds
1/2 cup hazelnuts or almonds
1 1/2 cups rolled oats
2 T chia seeds
4 T psyllium seed husks (ground)
2 t salt
1 T maple syrup
3 T coconut oil
1 1/2 cup warm water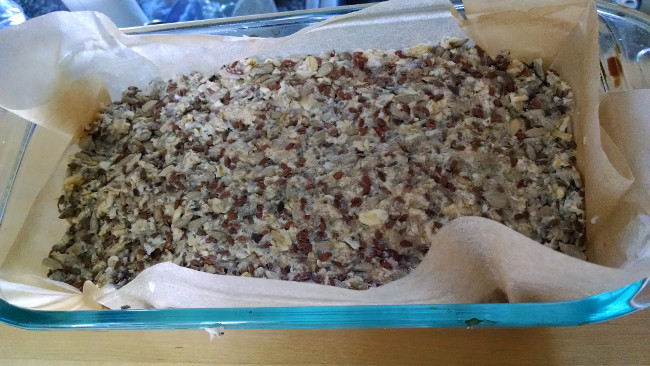 Combine all the dry ingredients in a bowl and mix.
Add coconut oil to warm water and swirl until the coconut oil is melted. Stir in maple syrup.
Pour the liquid mixture into the bowl with the dry ingredients. Mix well.
Line a loaf pan with parchment paper and press the dough into the loaf pan. Let it sit at room temperature for at least 2 hours.
Preheat oven to 350 degrees F. Bake the loaf for 20 minutes. Then, remove the loaf from the oven and carefully pull it out of the pan using the parchment paper for help. Set the loaf onto a cookie sheet and return to the oven, baking for 30-40 minutes, or until the outside of the loaf is golden.
Let the loaf cool before slicing and eating. It tastes the best sliced and toasted.
The loaf spoils pretty quickly, so I slice up half and freeze the slices for snacks later.