I recently revisited this restaurant after an unintended hiatus, and mostly, I thought, "Why did I stay away for so long?"
Udupi Palace is a vegetarian Indian restaurant that serves enormous plates with little sauces and maybe curries and various doughs as vessels. The Internet tells me it is southern Indian food, but I really have no idea. But I do have a fervor for doughs and spiced sauces.
I always insist on getting "one of the giant puffed doughs" there, though I can never remember the name… so I have to furtively Google every item on the menu until they look right. But, for posterity and for the common good, these things are called batura, and they are amazing. They are these large, puffed, chewy and flaky bread that comes with a sauce or two, and maybe a chutney? It's all sort of a blur after you deflate the bread and start digging in.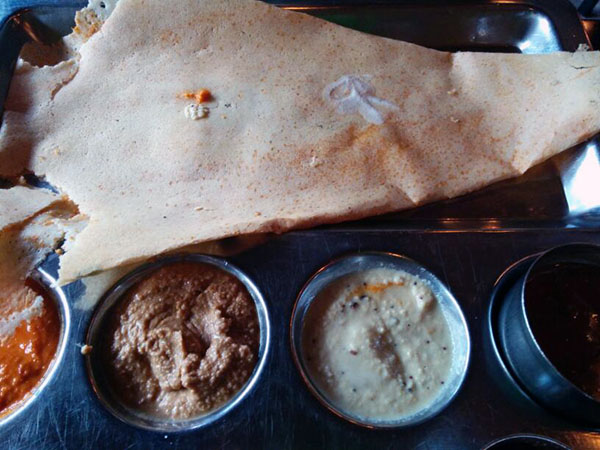 Next, we have a giant roll of crispy crepe-like bread (seriously like the length of my lower arm) that comes with a whole suite of new sauces, some of which are savory, or tangy, or sweet. The giant, thin and slightly crisp bread is a dosa, I believe.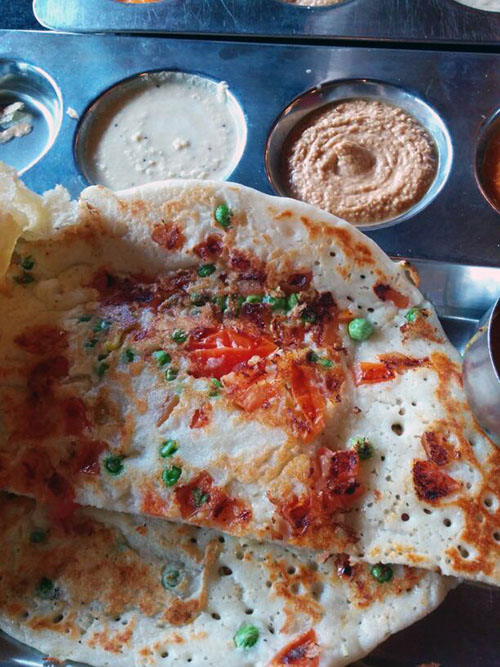 And finally, we have the uthappam, which is a thick, chewy, pancake-like creation that has vegetables already cooked in. It comes with the same sauces as the dosa above and is also delightful.
It's all pretty inexpensive for quite a lot of food, too. The only downside is that everyone else likes it, too, so it can get crowded. But nothing gets me riled up to brave crowds like delicious bready items.