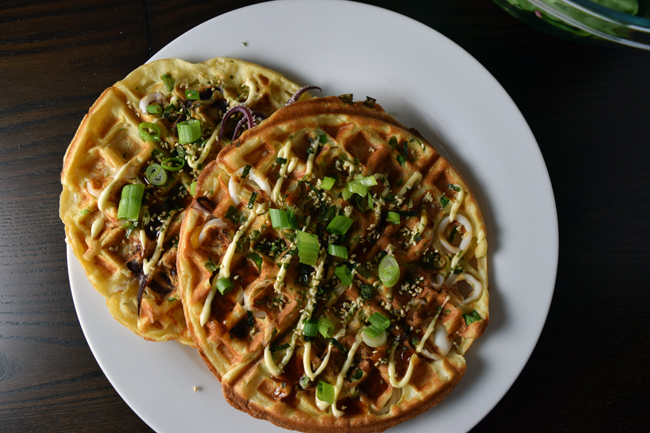 Things I've made in my waffle iron: waffled tofu (good!), falafawaffle (fail!), sweet potatoes (yum!) greens waffle (surprisingly good!), hash browns (obvi good!), cashew oat waffle.
Things I haven't made in my waffle iron: normal waffles
And, now, we can add these squid waffles. It's my take on the Japanese octopus balls, takoyaki — which are divine and made in a heavy pan with half-sphere holes in it, turning the batter with bamboo sticks. It's awesome to watch, and they're obviously delicious. But, apartment living makes it slightly hard for me to justify buying a takoyaki grill (yet), so the waffle iron seemed like the next best thing! And, it's much easier. No fiddling around with bamboo sticks, anyways. I think "tako" means octopus, so it's not strictly correct to call my version "takoyaki" even if we ignore the untraditional shape. I used calamari from our seafood CSA, so I've tentatively named this ika-yaki?
I enjoy strolling the somewhat mystifying aisles of the Japanese grocery store, so I used a takoyaki mix. There's a recipe for the mix on i am a food blog that looks legit without using yamaimo (which sort of intimidates me), though, if you don't want to go buy a mysterious bag of probably flour, salt, and baking powder. But I don't recommend you skip the mayonnaise and the sauce! As always, the toppings are the best part.
Takoyaki / Ikayaki Waffle
1 serving of takoyaki flour (mine was 4 oz)
+ whatever the package says you need (mine was 1 1/2 cups water and 2 eggs)
1 lb calamari, cleaned and sliced
1 bunch of green onions
takoyaki sauce and Japanese mayonnaise
furikake / bonito flakes
Slice your green onions thinly. Prepare your takoyaki batter (it will be quite thin) and add in 1/2 the green onions. Reserve the remaining half for toppings.
Heat up your waffle iron! Turn the heat to high, if you have such a setting.
When the waffle iron is ready, give it a quick spray with some nonstick oil. Pour on a small amount of batter — probably about 1/3 a waffle's worth. (For me, this is just under 1/4 cup.) Quickly distribute pieces of calamari evenly on the waffle. Pour on a bit more batter, then close the waffle iron. Cook until the waffle iron deems the waffle done.
Top with takoyaki sauce, Japanese mayonnaise, and furikake.