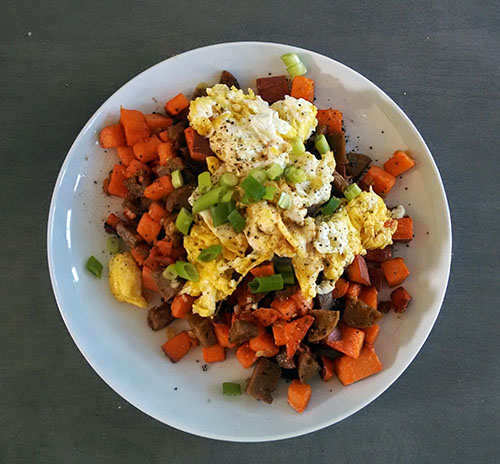 Breakfast is so often beige, don't you think? And, I mean, let's not pretend that golden brown isn't my absolute favorite color for food to be, but, sometimes you need a little more nourishment. By which I mean, I was about to go get my butt kicked by a mountain I intended to walk up and down, and I figured my usual method of eating bread and bites of leftovers wasn't going to cut it.
Thus, sweet potato hash was born. And it was delicious.
Sweet Potato Hash
1 large-ish sweet potato
(optional) 1 "sausage" – I used Field Roast because I am addicted
1 egg
1 stalk of green onion
salt & pepper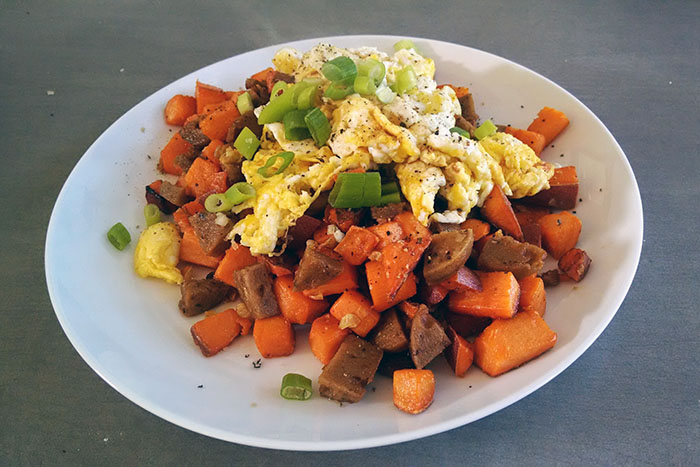 Cube the sweet potato into small pieces — tedious, but they'll cook faster, so you can eat faster. It's the morning, and I generally wake up hungry. And groggy.
If you're using real sausage, you may want to brown it in a pan, breaking into small pieces as you do so, and then remove it. Field Roast is made of grains and seasonings and crack and chemicals, so it technically doesn't have to be cooked… but it does have to be sliced before you add it to the pan.
Oil a large pan generously and let it get quite hot, until the oil shimmers. Add the sweet potato cubes to this pan, spread them out, and wait. I find not moving the potatoes around to be key to keeping them from sticking. I feel like I got this tip from a Mark Bittman post in his column in NYT, but I can't find it.
After an unbearably long time of waiting, move the potatoes around and season lightly with salt and pepper. When the potatoes are nearly done, add the sausage in and fry until both are done.
At this point, I would just push the stuff to one side of the pan (or tip it onto a plate) and crack an egg in there. Nobody needs to do extra dishes.
Top the hash with the fried egg, and top again with sliced scallions. Season with a little more salt and pepper to taste.
It's a simple "recipe," but weirdly, sweet potatoes as hash felt like a revelation to me. It's great — feels like a treat but also like good fuel for the day. That said, I ended up eating an entire burrito later that day before my hike (bad idea), but, you know.