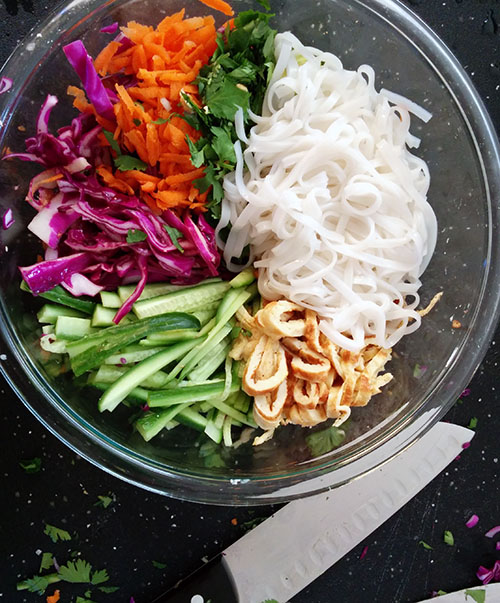 In my continuing quest to identify salads that are acceptable as entire meals,  I've started adding lots of non-salad ingredients, like handfuls of rice noodles and omelets. Because nobody wants to eat only leaves, you guys. But for real, this salad tastes like a spring roll without the fuss of actually rolling up spring rolls. It's living the dream, really.
I dreamed up the idea when I read the title of Heidi's spring roll salad recipe, which turned out to be not at all what I wanted. Sorry not sorry. I really dislike shiitake mushrooms, so that made her recipe a dealbreaker. So I made my own.
Spring Roll Salad
Inspired by 101cookbooks and The Pioneer Woman
~1/4 package (2-3 cups, loosely by volume) of medium-width rice noodles
2 eggs
1-2 teaspoons mirin
1 tablespoon + 1 teaspoon soy sauce
small piece of ginger root
2 teaspoons of toasted sesame seed oil
1-2 teaspoons of brown sugar or honey
1 tablespoon lemon or lime juice
1/4 head of red cabbage
1 or 2 carrots
2 Persian cucumbers
small handful of cilantro
additional: diced avocado, sliced scallion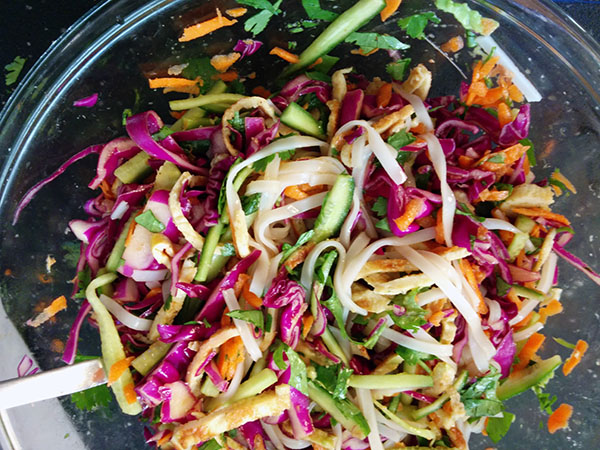 Place the rice noodles in a large, heat-proof bowl and pour boiling water over them. Let them sit while you prepare the other ingredients. They should be soft enough to eat by the time you are ready to assemble the salad. If they are not, just place the noodles and water in a pot and bring to a boil, then drain immediately.
Beat together eggs, mirin (to taste), and 1 teaspoon of the soy sauce. Make a thin omelet using a nonstick or hot cast iron pan, making sure the egg is cooked thoroughly. After the egg has cooled enough to touch, slice the omelet into thin ribbons. Set aside and let cool completely.
Now, assemble the dressing. Grate the ginger (I keep mine in the freezer for easy grating) or mince it very finely. Combine ginger, remaining soy sauce, sesame oil, and lemon/lime juice, and sugar/honey in a small bowl and mix thoroughly. Adjust ingredients to taste, of course. I'm usually pretty aggressive with the flavors, since the salad is very sturdy and won't fall apart if dressed assertively.
Thinly slice the red cabbage. Place in a small pile in a bowl, and drizzle some dressing on and work it in with your hands. Let this rest while preparing the remaining ingredients to take a little bit of the raw bite out of the cabbage.
Thinly slice or grate the cucumber and carrot however you please. (I slice cucumbers and grate carrots.) Place in piles next to the cabbage. Finely chop the cilantro and place in bowl. I also often add diced avocado, sliced scallion, etc to this salad — but I didn't have either, this time.
Drain the rice noodles. (If they're not soft enough, go ahead and boil them as instructed above.) Add the rice noodles and the egg ribbons to the bowl as well. Drizzle on dressing and serve immediately.