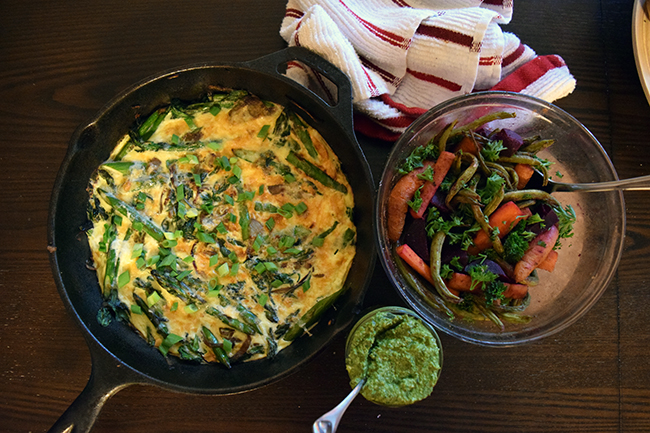 Here are things that I suspect might be written about "weeknight dinners" in legitimate cookbooks:
family-friendly
quick and/or easy to prepare
reheat well, or become good leftovers
moderately virtuous
Here are the things I care about when considering "weeknight dinners"
creating minimal dirty dishes
But actually. I'm only kind of kidding. I care about the other stuff, too, but mostly when I'm cooking, especially in a time pinch, I just think about how many dirty dishes I'm creating. I hate washing dishes, you guys. Often, my roommate does the bulk of them, since I do the bulk of the cooking, which is pretty much a dream arrangement for me, but still. Less dirty dishes equals more better, right?
That, combined with my serious fear of wasting food, probably govern all of my kitchen decisions. It's a crazy place in here, you guys.
Today, I've got versions of two weeknight standbys for me, that, you guessed it, create minimal dishes. One's a frittata where you cook the veggies and then bake the eggs in the same skillet, and the other, simple roasted vegetables. These are more template recipes, so ingredient-wise, so you could toss in whatever's seen better days from your veggie drawer. I served them with pesto because I impulse buy basil whenever it's a good price, so I had 3 bunches in my refrigerator. I'm a herb hoarder, you guys.
Spring Skillet Frittata
1 to 2 teaspoons vegetable oil
1 onion
15 (or so) asparagus spears
2 cups of spinach or other hearty green
4 eggs
(optional) splash of milk
(optional) small handful of cheese – Parmesan or feta are both great here
salt and pepper to taste
(optional) small handful minced green herbs (scallion, cilantro, parsley, basil, etc)
If you're using the oven for something else, that's great — this recipe works better if the oven's a little warm to start with. If you aren't, I suggest turning the broiler on about midway through your prep, so the oven has a chance to heat up a bit before you finish the frittata using the broiler.
Heat up the vegetable oil on medium high in a cast iron skillet.
Thinly slice the onion into half moons, then add to the skillet. Cook on medium for 20 minutes until they are caramelized, adding water as needed when the pan dries out. (If you're in a rush, no need to caramelize — just cook until they are translucent and done.)
While the onion cooks, slice or break off the tough bottoms of the asparagus. Cut on a bias, making 3 or 4 pieces from each spear.
Crack the eggs, milk (if using), and a bit of salt and pepper into a large bowl, whisking to combine and beat the eggs.
Add the asparagus and spinach/greens to the pan, stirring often, for a few minutes, until the vegetables are cooked.
While the pan's hot, pour the eggs over the vegetables. If using, sprinkle cheese evenly over the top of the frittata. Since the pan is hot, the eggs will begin cooking immediately from the bottom.
With the broiler having already been on high for a few minutes, place the pan on the top rack, right under the heat. Remove either when the eggs are just set (after just 3 minutes or so) or when the cheese is browned (5 to 10 minutes, depending on your broiler), whichever you prefer.
Top with your minced green herb and serve immediately.
Cumin-Roasted Vegetable Salad
1 tablespoon olive oil
3 medium beets
3 carrots
2 cups green beans
2 tablespoons cumin
1 teaspoon paprika
salt and pepper to taste
1/2 bunch parsley
Preheat oven to 375˚F.
Carefully clean beets, then wrap them each in foil. Place the beets on a cookie sheet (they often drip) and place in the oven, roasting until you can easily pierce them with a knife. Roasting time varies widely based on beet size, but I'd say at least 30 minutes, often closer to an hour, until they are done.
When the beets are done, take them out and let them cool slightly. Once you can safely handle them, unwrap the aluminum foil. Use paper towels to wipe the skin off (should remove easily), then slice into bite-size pieces.
While the beets are roasting, slice the carrots into "baby carrot" sized pieces. Clean and trim the ends off of the green beans.
Drizzle oil on a lined (either with parchment or a silicon mat) cookie sheet. Arrange carrots and green beans, then sprinkle on cumin, paprika, salt, and pepper. Bake in oven until the carrots are soft, about 30 minutes. The green beans should be done by then, too.
Toss the vegetables together with parsley and serve warm.