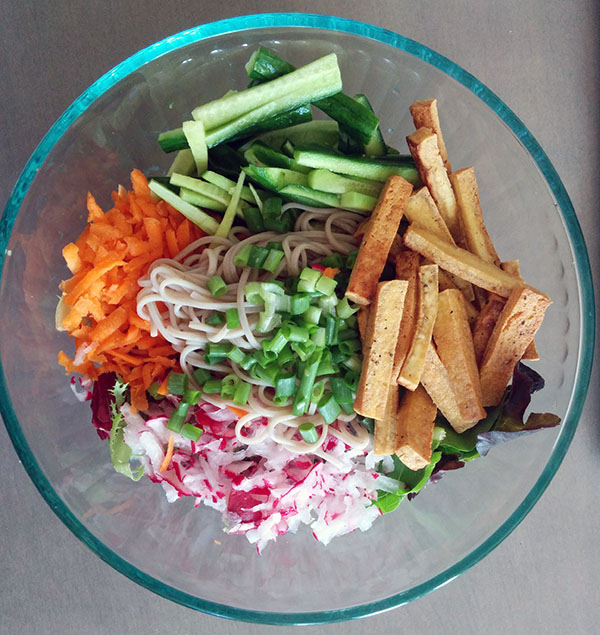 Longtime (hah) readers (hi, Mom) will note that this "salad" is very, very similar to the spring roll salad I posted in September. And, yes. I love a salad that has noodles and a soy saucey dressing. Yum.
Soba Salad with Soy-ginger Dressing
Inspired by Smitten Kitchen
1 small serving soba noodles
1 or 2 playing-card sized slices of extra firm tofu
1 Persian cucumber
1 carrot
2-3 radishes
a few handfuls of salad greens, washed
1 small knob ginger
1 tablespoon soy sauce
1 teaspoon sesame oil
1-2 teaspoons honey
1 tablespoon lemon or lime juice
1 or 2 stalks scallion
olive or vegetable oil.
Boil the soba noodles according to package directions — usually just for a few minutes. Once the noodles are boiled, drain and rinse with cold water immediately to stop cooking. While waiting for the noodles to cook, you can prep the rest of the salad.
Heat a bit of vegetable oil in a pan and fry the tofu until brown and slightly crisp.
Grate the carrot and radish. Slice the cucumbers into matchsticks. Thinly slice scallions. Arrange the greens into a large bowl and top with the cut vegetables, except for the scallions, and tofu.
Grate the ginger, and mix with soy sauce, sesame oil, honey, lemon/lime juice, and olive/vegetable oil to taste.
Once noodles are done, arrange on salad and sprinkle the entire thing with scallions. Drizzle in dressing and serve immediately.