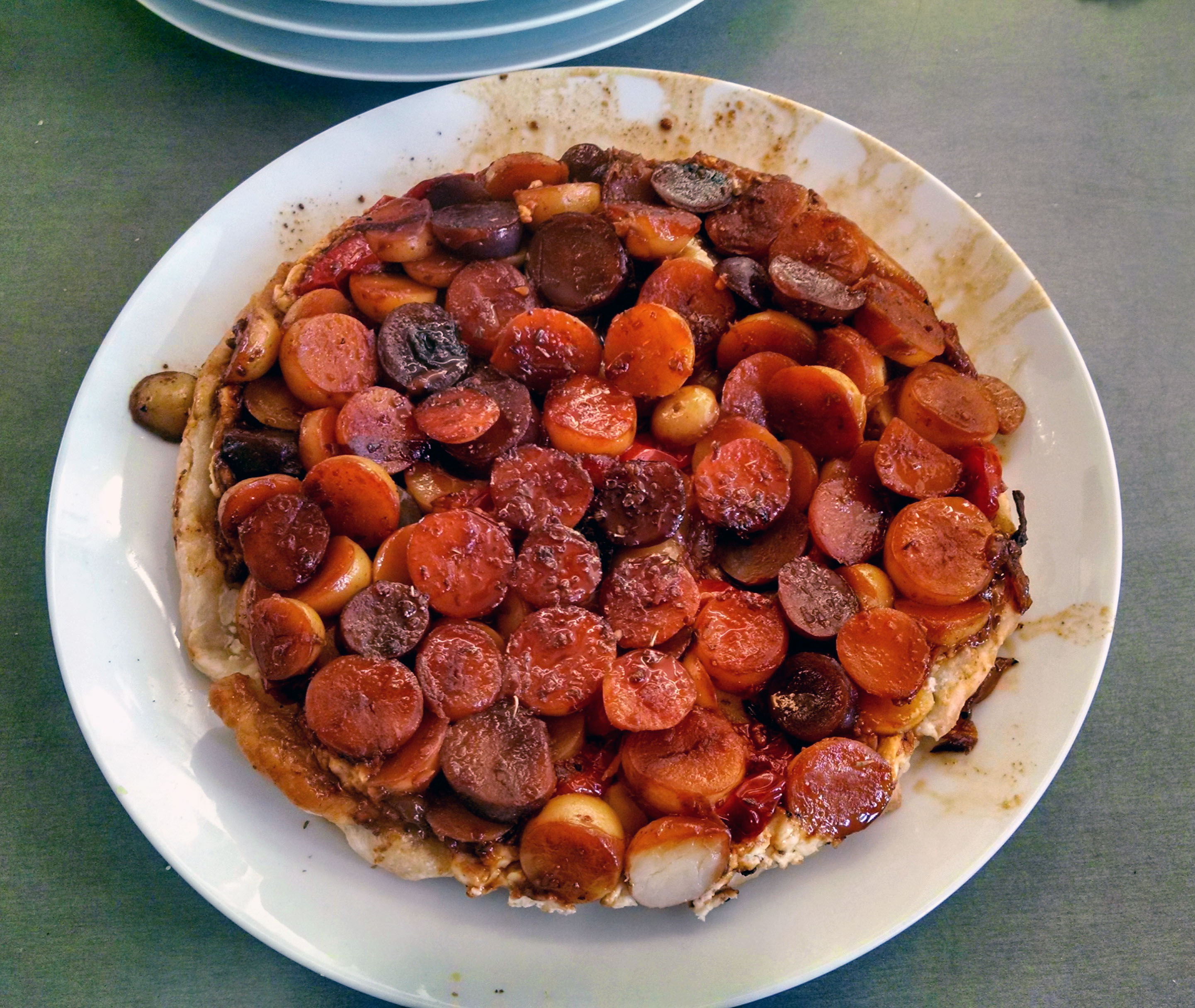 Ottolenghi's Plenty reads, "Filling a tart with potatoes is a real treat for potato lovers…" I couldn't agree more. Surprise! It's potatoes and buttery pastry! The best kind of surprise.
This was a fun fanfare dish for a dinner party. It's quite fussy, so I wouldn't make it just for normal dinner, but I knew I had to make it at least once, as a potato lover. It's very good — buttery pastry, dense, fudgy potatoes, with a sweet tomato/caramel flavor. It's also very time consuming, and the flip at the end is pretty scary! But you can do it. I have faith in you.
Surprise Tatin
From Plenty
1 1/2 cups cherry tomatoes
2 tablespoons olive oil, plus extra for drizzling
salt and pepper
1 lb new potatoes
1 large onion, thinly sliced
3 tablespoons sugar
2 teaspoons butter
big pinch of oregano leaves
5 oz goat cheese, sliced or crumbled
1 puff pastry sheet, defrosted, rolled thinly (highly recommend Dufour brand)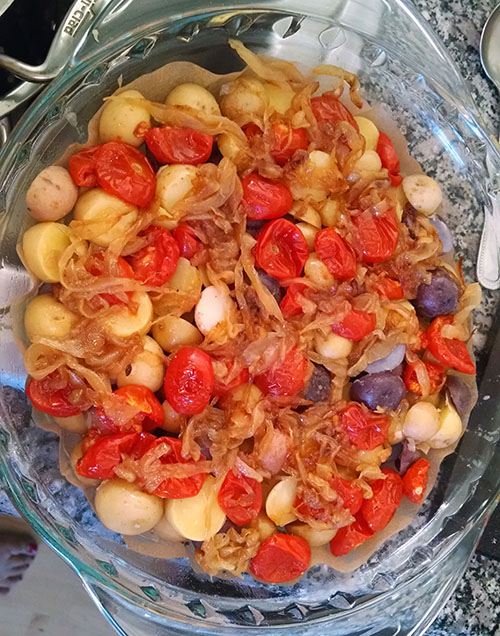 Preheat oven to 275 degrees Fahrenheit. Cut the tomatoes in half and place them skin side down on a baking sheet. Drizzle over some olive oil and season with salt and pepper. Place in the oven for 45 minutes to dry.
While you're waiting, boil the potatoes in salted water for 25 minutes, or, until just barely done. Drain and let cool. Cut them into 1-inch discs, or, in half, if you are using very small potatoes.
Sautee the onions using the oil and some salt and pepper until they are done and slightly caramelized, about 10 minutes.
Brush a 9-inch cake pan with oil and line the bottom with a circle of parchment paper. Cook the sugar and butter in a small pan on high heat, stirring constantly, until you have a medium dark caramel. Working quickly but carefully, pour the caramel onto the parchment in the cake pan. Tilt the cake pan around to spread the caramel as much as possible. Sprinkle the oregano leaves over the caramel.
Preheat the oven to 400 degrees Fahrenheit if baking immediately.
Lay the potato slices or halves close together, cut-side down onto the caramel. Press onions, tomatoes, and goat cheese into the gaps. Season the entire tart with additional salt and pepper. Cut a circle out of your puff pastry that is slightly larger than the pan. Lay the pastry onto the potatoes and tuck in the edges around the filling.
(If you need, you can chill the tart at this stage for up to 24 hours.)
Bake the tart at 400 degrees Fahrenheit for 25 minutes, then reduce the temperature to 350 degrees Fahrenheit and continue baking for an additional 15 minutes. The tart is done when the pastry is fully cooked — golden brown and puffed slightly. Remove from the oven and let cool for 2-3 minutes.
Then, hold a plate firmly on top of the cake pan. Carefully but confidently (you can do it!), quickly turn them over together, flipping the tart onto the plate. Serve immediately.