I like salad, I just don't like it as a whole meal. With a build and appetite that would be kindly called "robust," I'd have to eat a shocking number of raw leaves to feel satisfied. My "no salad as a meal" rule has a few notable exceptions: salads served in deep-fried taco shells, salads that have more croutons than vegetables, salads that are mostly grains, you get the gist. I found a new salad that's a satisfying meal — Malaysian gado gado.
The recipe's from Ottolenghi's Plenty. Well, I think it is. We moved to a new apartment, um, 3 months ago, and we just unpacked the cookbooks. Look, some of us struggle a little more than others.
Um, and this photo is of reheated leftovers, because on the night we made it, I couldn't wait to eat. Some of us have 101 cookbooks and photograph food beautifully. Some of us have 20ish cookbooks, never use them, and clearly eat leftovers while watching television on our laptops, visible in the photo.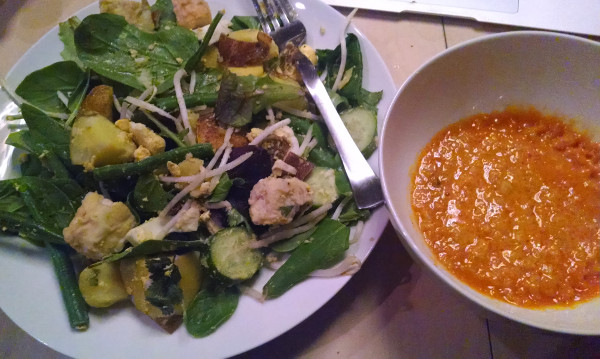 Ottolenghi's gado gado
from The Guardian
Satay sauce:
4 garlic cloves
1 stalk lemongrass, chopped (couldn't find, I skipped it)
2½ tbsp sambal olek (I used sriracha)
2 small pieces galangal (I used ginger root)
4 medium shallots
80ml vegetable oil
½ tbsp salt
90g sugar
½ tbsp paprika
2 tbsp thick tamarind water (tamarind paste whisked in water) (I used tomato paste)
225g roasted peanuts, without skins
450ml water
200ml coconut milk
For the salad:
1 tsp turmeric
2 potatoes, peeled and cut in wedges
½ medium cabbage, cut into chunks (I used 50/50 spring mix and spinach…)
70g bean sprouts
100g french beans, trimmed
½ medium cucumber, sliced thickly
4 hard-boiled eggs, quartered
100g tofu, sliced
Cassava chips (or something deep-fried and crunchy: wonton skins, say) (I battered and fried the tofu instead)
3 tbsp picked coriander leaves
Fried shallots (ready-bought) (Meant to fry an extra shallot but totally forgot)
Okay, so even with all of my authenticity fail substitutions, the satay sauce was still delicious. And it's British, so the measurements are in metric. I don't really have a way of measuring mL in my brazenly American kitchen, but I did use my kitchen scale for the other stuff.
First, whirl the garlic, sambal olek (sweet chili saucce), galangal/ginger, shallots, and lemongrass (if you're using it) in the food processor until it makes a paste. Add a little oil if it's looking more sticky than smooth. Toast in a saucepan with more oil. Ottolenghi suggests doing this for 40-50 minutes, but, I was hungry, so I did it for maybe 30 while I prepared the other stuff.
Crush the peanuts in the food processor, and then add to a small pot with 450 mL water (about 2 cups). Simmer for 20-25 minutes.
While your paste is toasting, bring a large pot of water to boil. I'm pretty sure Ottolenghi has a confusing metric measurement of how much, but just, a lot. Boil the green beans for 3-4 minutes, then fish out with a slotted spoon. Dunk in ice water if you're fancy; I just rinsed them in the sink and called it a day. Dunk the cabbage in for a less than a minute if you're using it; since I was using salad mix, I skipped this. Sprinkle turmeric in the water and boil the potatoes until they are done. The timing will depend on the size of the pieces. For me, this was about 15 minutes.
At this point, the peanuts are simmered and the paste is toasted. Add the peanuts to the paste, and stir in coconut milk. Keep warm.
Dredge sliced tofu in flour with a little salt and pepper and fry up the pieces. It's worth the extra trouble, promise.
Assemble salad by placing greens, vegetables, and tofu in a large bowl. Serve with warm satay sauce.