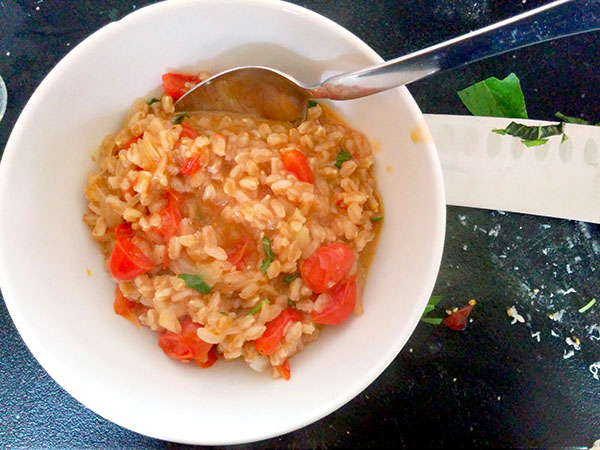 I'm very devoted to one-pan meals. I love cooking (and eating), but I really don't love doing dishes, so if I can save on a dish, I will. And this is a true one-pan meal. None of that BS with washing the pan in the middle of cooking. That doesn't count as saving on dishes, if you have to wash the same one twice. Or using a lid as a plate. Don't try to be smart with me. Washing a lid still counts. With this recipe, you just dirty one pot, a cutting board, a knife, a measuring cup, and maybe a grater. Yes, please.
Oh, also, it's delicious.
One-pan Farro with Tomatoes
From Smitten Kitchen
1 cup farro
2 cups water
1/2 large onion (yellow or white)
2-3 cloves of garlic
9 oz cherry tomatoes (about one of those green baskets, heaping)
1 teaspoon salt
generous pinch of crushed red pepper flakes
1 tablespoon olive oil
small handful of basil leaves
Parmesan cheese, grated (optional)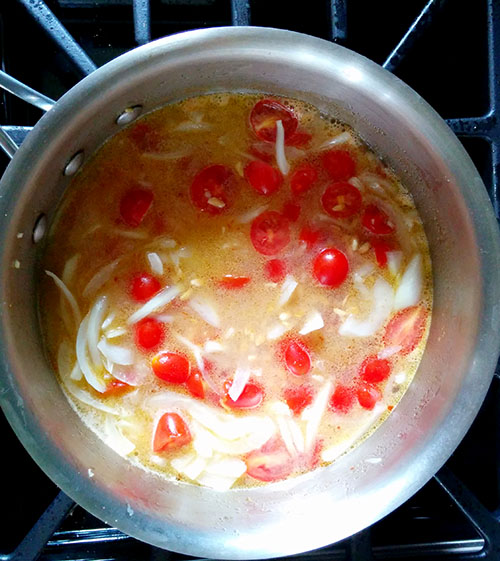 Place water and farro in a medium saucepan, and let the farro soak while you prepare the other ingredients.
Very thinly slice the onion into half moons. Mince the garlic and slice the cherry tomatoes in half. Add everything to the pan. Add salt, red pepper flakes, and olive oil to the pan. Bring everything in the pan to a boil, then lower to a simmer, cooking uncovered for around 30 minutes. Stir occasionally. When done, the farro is tender but still toothsome, and nearly all the water is absorbed. (Add additional water while cooking if needed.)
Slice the basil leaves into thin ribbons (chiffonade). Stir them into the done farro, and sprinkle with cheese if desired. Serve hot, though, it makes excellent warmed up leftovers as well!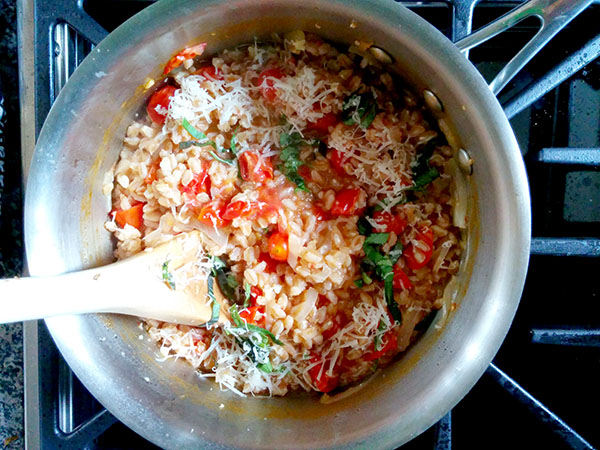 I'm on the lookout for more true one-pan recipes (none of the nonsense I described earlier in this post), so please send them if you've got 'em!