About a month and a half ago, I went to New York for work, but I had the great fortune to also spend some extra time with friends and eat my way through as much of the city as possible. I wish that I had been able to stay for longer, but the one good thing about my limited time was that I didn't even feel bad about doing my only sightseeing with my mouth. Priorities.
I took a redeye from San Francisco and landed, pretty exhausted, just in time to squeeze on the subway for rush hour. Muddling my way through that, I emerged, and my friends Victoria & Phil graciously welcomed me into their studio, where I proceeded to pass out.
Upon waking, I found that Victoria had picked up some treats from City Bakery, because I am the most spoiled, so we nibbled, and then set off to go eating.
First stop was al di la, a charming Italian place apparently favored by Deb. I could see why.
I had some fresh cheese and corn filled pasta. Tortelli? I forget the exact name for the shape, and I can't quite discern it. But whatever, they were delicious. Rich and sweet from the dairy and corn, with chives and a tiny amount of truffle to make it savory. Victoria got some sort of polenta that was also quite good.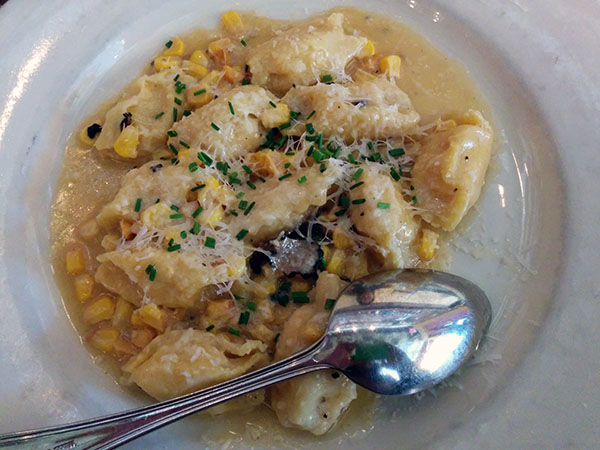 And, of course, we got two desserts.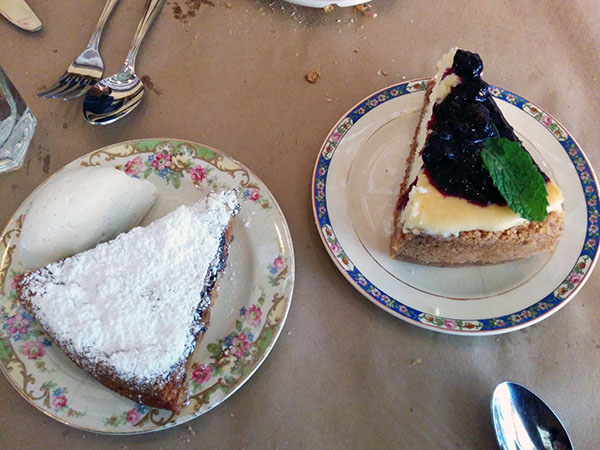 The pear and bittersweet chocolate tart was incredible, and I can see why it's so loved. Layered and not-too-sweet, but with the whipped cream, definitely a treat. The cheesecake was definitely pure decadence. I mean, cheesecake, what's not to like?
Later, we met up with my friend Shelly, and we wandered around, chatted, and ate Ample Hills ice cream. It was fantastic, obviously.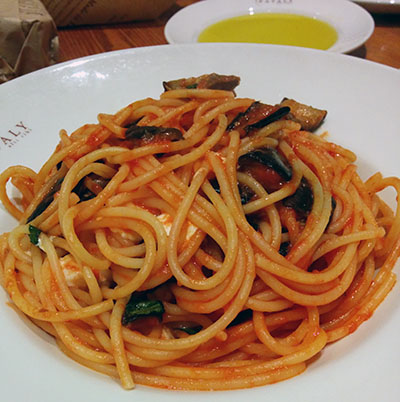 Since we hadn't eaten enough pasta, for dinner, we set off to Eataly, which is sort of like a theme park that is Italian-food themed. It was particularly magical in that though it's definitely a tourist destination, the plates were very, very good. The pasta was cooked beautifully al dente, and while a large portion (I still finished it), showed a lot of restraint that I lack at home for sure.
That night, I remember sleeping like the dead. Massive kudos to gracious hosts Phil & Victoria for dealing with an unconscious Jade in the middle of their studio.
The next morning, we set off to Dominique Ansel (of cronut and various pastry fame). After some very difficult decisions, we left with a bag that was so large that a woman asked, "Is that all pastries?" Yes. Yes, it is.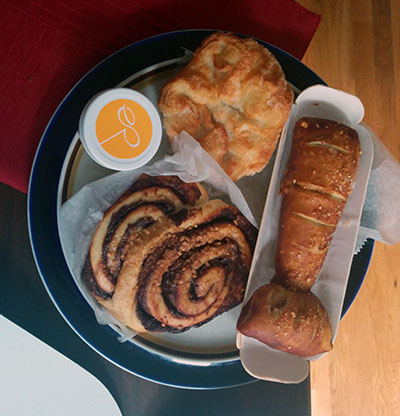 And, I mean, there's everything to like about all the pastries. They're playful and fun but all very well done. The kouign amann, a favorite of mine back home, was buttery and caramelized with a nice "light" texture. The "lobster tail" is pretzel dough that is then somehow mixed with caramel and peanut butter (one of these is a dipping sauce) that was obviously delicious. The Nutella milk buns were fluffy and enriched and reminded me of pastries from an Asian pastry shop, though with Nutella instead of red bean paste.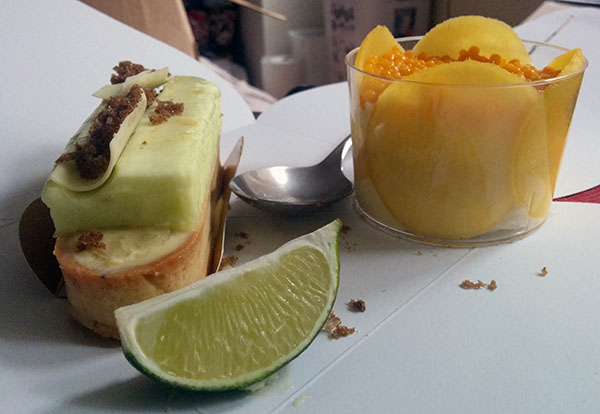 From this post, I was intrigued by the Lime Me Up Tart and Coco-Mango Riz Au Lait, which I think were two of the most playful offerings that day. The lime tart had a shell filled with custardy, tart filling, like key lime pie, upon which you sprinkled sugar or squeezed lime to your liking. The mango item is coconut rice pudding paired with mango slices and mango "pearls," which I thought was a fun way to enjoy that classic flavor pairing.
I eventually went off to staff the conference for work, where, I swear, I ate only vegetables, because up next were a few rich work dinners, and then a meal so mind-boggling that I'm saving it for another post! Also, this one is really long.