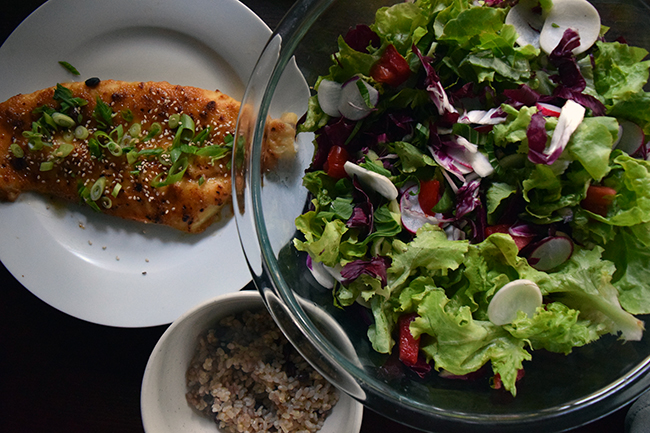 Hello from the Midwest! I am on a whirlwind combined work and fun trip this week. I have a complicated eating itinerary for each city I'm hitting to help me and my stomach make the most of this trip. (It might be a little bit intense.) There are backup times to go to certain places if I don't make it the first time. Everyone else also does their sightseeing largely with their stomach, right?
It feels a little weird to be editing photos and writing about my pretty unabashedly California-style food while still trying to digest foie gras meatballs (But actually. Worth it.), but here we are. Maybe looking at photos of leaves is a little bit like eating them? Let's go with that.
Anyways, speaking of California and home, here's another thing I'm into that totally screams Bay Area. I recently signed up with Real Good Fish, which means that, every other week, I get a portion of seafood that I know's going to be high quality and that I know has been responsibly sourced. The only thing I don't know is exactly what kind of seafood it is — at least, not until the day before. It's a CSA-type model, but for seafood. I've been a faithful vegetable CSA member (via High Ground Organics) for a while now, and I've been delighted with the added surprise, delight, and challenge so far of adding a little seafood to the mix.
The first portion that we got was two huge fillets of halibut. I'll admit, I was a little relieved that our first delivery was a bit of a softball. I signed up to get whole fish as a good learning opportunity. But since halibut are huge, they gave us fillets… definitely less intimidating. I went with a tried and true preparation in this spirit.
Broiled Miso Halibut
1 large halibut fillet (I used 1/2 lb or slightly more to feed 2)
2 tablespoons mirin
2 tablespoons miso paste
1 teaspoon grated ginger
1 scallion (optional)
1 teaspoon sesame seeds (optional)
Combine mirin, miso, and ginger in a large, flat pan (I used a cake tin). Gently rub the marinade into the halibut and place it in the pan. Let the fish marinade for around 20 minutes.
While you're waiting, you can thinly slice the scallions and toast the sesame seeds. I also made a quick side salad (butter lettuce, radicchio, sliced turnips, tomatoes with a simple shallot & Dijon mustard vinaigrette) to go with the meal.
Place an oven rack at the top of your oven and turn your broiler to high. Carefully slide the fish onto a parchment-lined roasting pan, rubbing in any leftover marinade. Slip it onto the rack close to the broiler. Let it broil, undisturbed, for 10 minutes for every inch of the thickest part of the fillet. The miso will bubble and caramelize slightly.
(If you're worried, you can check the internal temperature, which is technically 145˚, but if you get to 135˚, you should be good, as the temperature will continue rising after removing it from the oven.)
Top with scallions and sesame seeds, and serve.