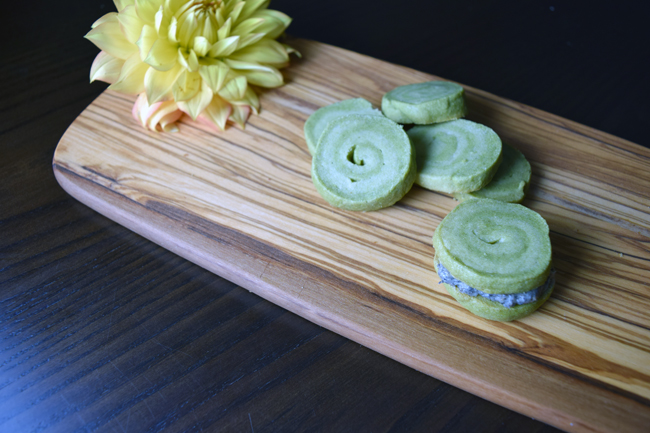 Hello from my Chinese-American family — we're waiting for Beyonce to come on at the Superbowl halftime before we (well, my mom) starts preparing a Lunar New Year dinner of fish three ways: steamed whole, seared fillet, and sashimi. So lucky to have the ocean in my belly, tonight.
Other things I'm doing for the festivities: wearing my red Madewell pants, which are both soft and stretchy — great for the coming feast, catching up with an old friend and thinking I might actually get back into dating this year (I get to count the lunar year as a new one), and trying to write another blog post.
Yes. I've been a little preoccupied with work and life and a little struggle with work / life balance, but I'm fighting my way back! And now, with more baking, because I've rediscovered the joys of bringing sweets to work. Oh, to work at a place without unlimited cookies — a food blogger's dream! I know, I'm so, so spoiled.
I made these little Asian Oreos a while back, and I liked them so much that I knew I had to get rid of them immediately. I'm a sucker for anything matcha and anything black sesame, so, naturally, I decided to combine them into the sandwich cookie of my dreams. Matcha and black sesame are like my peanut butter and jelly (though I do love me some PB&J), so these were a winner for me, easily.
I used a recipe for matcha shortbread from Two Red Bowls and black sesame buttercream from My Name is Yeh to make these little bite-sized treats. Baked goods always get bonus points if they can survive a little jostling in my bike panniers so I can bring them to work.
Matcha Shortbread
from Two Red Bowls, adapted slightly
We'll make two batches of dough — one in light green, and one in dark green, to make the swirl effect. I suggest actually differentiating the matcha powder a bit more than I did, since my swirl effect is quite faint.
Light green layer:
1/4 cup (1/2 stick) salted butter, at room tepmerature
3 Tbsp powdered sugar
1/2 egg yolk
1/2 cup all-purpose flour
1/2 tsp matcha powder
1 pinch of baking powder
Dark green layer:
1/4 cup (1/2 stick) salted butter, room temperature
3 Tbsp powdered sugar
1/2 egg yolk
1/2 cup all-purpose flour
1 tsp matcha powder
1 pinch of baking powder
First, the light green layer (to avoid darkening it with the dough from the dark green layer): Cream together the butter and sugar using an electric mixer until fluffy, and then mix in the 1/2 egg yolk. In a separate bowl, mix together the flour, baking powder, and matcha powder. Add the dry ingredients gradually to the butter/sugar/eggs, beating between additions. The dough will form a dense ball. Smooth out the ball of dough, wrap in saran wrap, and refrigerate.
Follow the same instructions above for the dark green layer.
You can prepare the doughs ahead of time (up to a few days) if you want, or you can roll them out immediately.
To roll out, sandwich a ball of dough between two layers of saran wrap and roll into roughly equal rectangles. I used a small cutting board as a proxy for the size I wanted the dough (about the same size as a 8.5″ by 11″ sheet of paper).
Carefully lay one rectangle of dough on top of the other, and then roll up, short side to short side, like a cinnamon roll. Wrap the log and stick back in the refrigerator to firm up, for at least an hour.
After an hour, preheat your oven to 350˚F. Remove the log from the refrigerator and slice into thin rounds — 1/4 inch, or thinner if possible. Arrange on a silicon or parchment-lined baking sheet; close is okay, since they won't spread much.
Bake for about 10 minutes, until the edges are browned.
Black Sesame Buttercream
from My Name is Yeh, slightly adapted
1/2 cup (1 stick) salted butter, room temperature
1 cup powdered sugar
2 Tbsp toasted black sesame seeds
1/2 tsp vanilla extract
Grind your black sesame seeds into a paste. I used the coffee grinder that I use to grind spices… which actually gave my frosting a hint of Sichaun pepper. I kind of liked it.
Use an electric mixer to beat together the ingredients and set in the refrigerator to chill.
Assembly — wait until the cookies have cooled completely and the frosting has chilled for ease of assembly. :) The cookies transport the best when slightly frozen.