I almost didn't post this because my photos of it are so gnarly-looking, but then I had a great revelation: fuck it. I can eat gray soup and talk about it on the Internet if I want to.
This soup is like 3,000 times fussier than I usually prefer, by which I mean, you can't really just throw things into a pot and wait. I know. I want to watch TV on my laptop while I cook, too. It is actually really tasty, though, so, there's that. It's satisfying without being creamy and felt somehow very classic to me.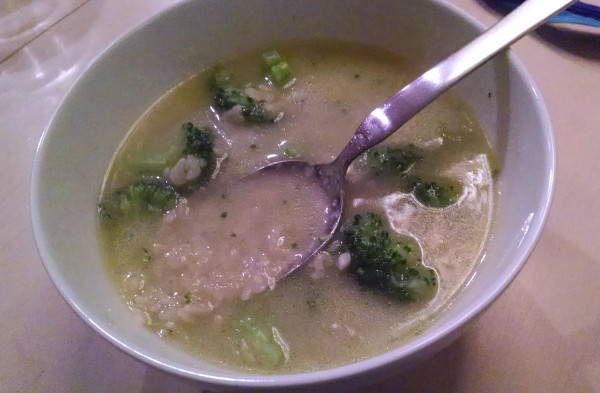 Marcella Hazan's Broccoli and Pasta Soup
I did the best I could following The Wednesday Chef, but I ended up changing all kinds of stuff in an effort to save time and dishes. And also to make more soup, because I was hungry.
2 medium bunches of broccoli
Salt
1/3 cup olive oil
2 cloves chopped garlic
3 cups broth (I used Better Than Bouillon's fake chicken flavor)
1/2 cup small, coarse soup pasta (I… used alphabet pasta)
Freshly grated Parmesan cheese
Bring a large pot of generously salted water to boil.
Cut the florets off of the stalks. Split particularly large pieces of the stalks and trim particularly tough parts. Place the stalks into the boiling water, wait for the water to come back to boil, and cook for 2 minutes. Then, add the florets, wait for the water to boil again, and cook them together for 1 minute. Theoretically, if you dunk the broccoli underwater when it touches the air, it will brown less, but I didn't have great luck with that. As you can see, my broccoli puree looked like gray sludge.
While the broccoli is cooking, heat up the oil and garlic in a large pan. Sautee until the garlic turns slightly brown.
Fish the broccoli out of the water with a slotted spoon. (Don't discard the water.) Add the broccoli florets to the sautee pan and cook for 2-3 minutes, stirring regularly.
Dump the cooked stalks into a food processor and pulse for a minute or two. Then, spoon the excess oil from the pan as well as a bit of broccoli water into the processor. Whir it all together until it becomes a smooth puree.
Add the puree and the broth to a large pot and bring to a boil. Then, add the pasta and cook according to package instructions. If you're using alphabet pasta like me, and the package doesn't have instructions, just boil for 7-8 minutes. Add broccoli water as needed to thin out the soup.
Add the broccoli florets and boil for 1 minute.
Season the soup with salt, pepper, and grated Parmesan as needed.