Sometimes I get really stuck on certain foods and will eat them for every meal for days, possibly weeks. This flies in the face of my usual reluctance to eat leftovers, but, well, at least it makes things easier. This time, as a grand stroke of irony, it's kale salad. I know. This is probably the healthiest meal I'll ever post.
I mean, I like salad. I really do. I'm just always on a tirade about how it doesn't feel like a full meal and I want something warm like soup or toast or a sandwich or maybe a bit of pasta with it. But, I don't know. I came around. Chomping through a big bowl of kale definitely seems more substantial than eating some watery lettuce.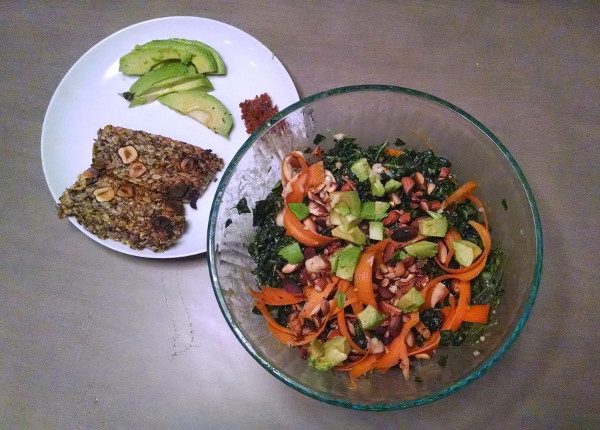 Kale Salad with Miso-Sesame Dressing

7-10 leaves of kale (preferably lacinato, but curly will work)
handful of some kind of nut (I've been using almonds)
1 carrot
1/2 avocado
1 t ginger, minced
1 clove garlic, minced
1 T miso paste
2 t tahini
2 T lemon juice
2 T olive oil
soy sauce to taste
Preheat oven to 375.
Tear the kale leaves away from the stiff stem. Then, gather it all together in a big lump on a cutting board and run a knife through, cutting it into small, bite-size pieces. (Don't sweat it if they're different sizes.) Set in a large bowl.
Make the dressing — combine minced ginger, minced garlic, miso, tahini, lemon juice, olive oil, and soy sauce in a small bowl. Whisk together the ingredients until smooth. You want a flavorful and thick dressing.
Tip for the ginger: I actually keep our ginger frozen and just grate it on a microplane for use. I don't even peel it. Much easier.
Pour most of the dressing onto the kale. Work the dressing into the kale by "massaging" it. The kale will wilt, shrinking a lot. How much you massage is sort of personal preference, but when the leaves seem soft enough for you to eat, that's enough.
If the massaging isn't your thing, you can just drizzle the dressing (or just some lemon juice and olive oil( on the kale, mix it around, and just let it sit for 30 minutes or so.
While the kale is sitting, toast the handful of nuts in the oven. This only takes 5-10 minutes. They're ready when they smell toasty. Let them cool and roughly chop.
Shred the carrot, or, use a peeler to make ribbons, and add to the bowl. Cube the avocado and add to the bowl.
Add a little more dressing if desired.