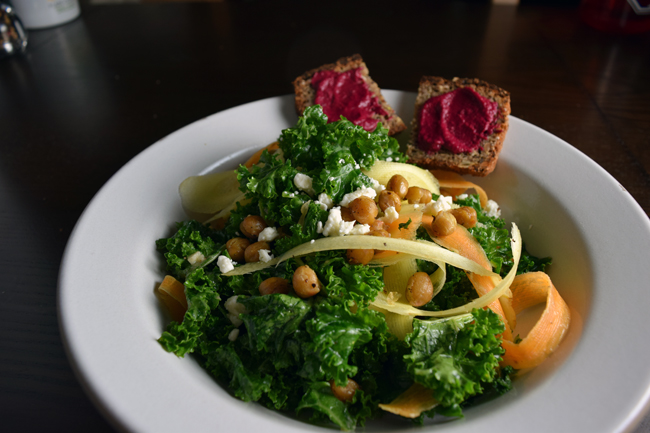 This is the sort of people my family members are: when my sister had an opportunity to go to Chicago for an extracurricular activity, we all essentially said, "Pizza? Yeah, I could do that," and then bought our plane tickets. I solicited recommendations from epicurean friends and made an intense schedule with each meal, and a snack a day, planned out, because I'm that person on trips. Sorry not sorry.
Food tour of Chicago was pretty splendid. As it always is with travel, though, it was heavy on the golden-brown spectrum (obviously the better side). And I was already a few days into the beige wonderland, as I'd chained a work trip before the fun trip. So, while, yes, the pizza and pie and burgers were all eat-in-silence good, I was equally excited (well, nearly) to see a kale salad at Avec for lunch one day.
Since I tend to leave the deep dish pizza creating to the professionals, this kale salad's one of the few meals from that trip I've been able to take home, too. Not that I've been particularly true to their version, which is very good, but I suspect uses fresh herbs I don't often have lying around. I stuck to their basics: kale, carrot, rich but not cloying dressing, and a little crunch. I'm not sure if I've ever clutched a bowl of my own homemade kale salad and exclaimed, "Yay, leaves!" as I did that day, but, it's a decent salad.
Kale and Carrot Salad

1 bunch of kale
1 can of chickpeas
1 Tablespoon of olive oil
optional: cumin, smoked paprika
2 carrots
1 teaspoons of olive oil
1-2 teaspoons tahini
1-2 teaspoons lemon juice
optional: 1 clove of garlic
salt and pepper to taste
optional: small handful of crumbled feta cheese
Preheat oven to 375˚F.
Clean and rip the kale into small pieces. Toss with a drizzle of olive oil and maybe a sprinkle of lemon juice if it looks particularly fibrous. Massage that kale like you are a kale masseuse working at a fancypants kale spa.
Let the kale sit while you toss the (drained and rinsed) chickpeas in the tablespoon of olive oil. Season with salt, pepper, and if desired, cumin & smoked paprika. Let bake in the oven for 20 to 30 minutes, until they're roasted and lightly crispy.
While the chickpeas are baking, finely mince your garlic, if you're using it. Combine with lemon juice, tahini, additional olive oil, and salt and pepper to taste. Let the dressing sit a little while to let the garlic mellow out a little bit.
While you're waiting, you can add the carrots to the salad. I use a vegetable peeler to get the long strips, but a standard shred or matchsticks would work, too.
About 10-15 minutes before serving, add the dressing to the salad and give it a couple squeezes to really incorporate.
Top your salad with the crisped chickpeas and a sprinkle of feta cheese just before serving. (Yay, leaves!)