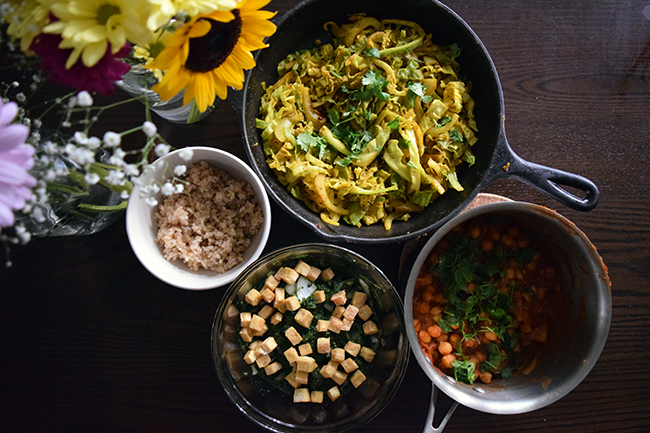 Another grain bowl? Yeah, I know. It's just… what I eat. I might start a series so it seems more intentional than coincidental. That'd work, right?
It's hot here. Like, shut all the blinds and lie on the ground hot. Today, I couldn't even brave turning on the stove, so I went out for dumplings, and it was the best. When I'm not being a wimp and when the temperature rises, I often want spicy food. You know, hot on the outside, also hot on the inside? I think I sort of get this from my family — we used to eat hot soup on hot days. It sounds counterintuitive, but there's something about eating hot soup on a hot day and just sweating it out. It's like the working man's sauna. With snacks, so, obviously superior.
I still didn't want to use the oven and stove and make my apartment unbearably hot, but if there had been an Indian Chipotle (DREAM LIFE), I would have gone there and gotten this in a jiffy. Satisfying, and everything with a kick, it'd make my tummy feel like the smokey outside, and we'd all be zen. So, I'll share the recipe now, but know that I'm being a total wimp and only cooking things with the microwave or pressure cooker right now. Sorry not sorry.
From the top, these bowls were:
Spiced, charred cabbage and fennel – based loosely on Madhur Jaffrey's recipe
Chana masala (ish) – I make mine based loosely on Smitten Kitchen's recipe
Palak tofu – recipe below
Brown rice
The palak tofu is my and my roommate's version, after numerous iterations and adjustments. It's very spinachy and brightly spiced, and I top it with baked tofu. (I'm sure it would be really good with paneer, but I don't often have paneer/lots of milk on hand, but I've almost always got tofu, spinach, an onion, and spices.) I've found that my homemade version is intensely green, both in appearance and taste. I love that it's like a shot of greens and nutrition and that I feel like an ethnic Popeye when I eat it.
Palak Tofu
1/3 block of tofu, cut into small cubes
1/2 Tablespoon cooking oil
2 cloves of garlic
2 lbs of spinach (seriously)
1 small knob of ginger, approx the size of a walnut
1-2 tsp garam masala
1-2 tsp ground coriander
1-2 tsp ground cumin
1/2 tsp ground cardamom
1/2 tsp ground cloves
2 tsp lemon juice
1/2 yellow onion
salt & pepper to taste
Preheat the oven to 350˚F. Arrange the tofu cubes on a silicon baking mat or parchment paper so none are touching. Bake them until they are puffy and golden, around 40 minutes. You may need to carefully rearrange/flip them once or twice throughout the baking process.
While your tofu bakes, you can get going on the spinach. Mince the garlic and ginger. (I grate frozen ginger on a microplane instead of mincing it, if you are so inclined.) Heat up the oil in a large pan, and add the spinach and spices, stirring occasionally until the spinach is wilted. When the spinach has wilted, turn off the heat and let it cool a bit.
When the spinach is cool enough to handle, transfer it to a food processor. Add a little bit of lemon juice and pulse until it's smooth. Taste the spinach and adjust the spices, lemon juice, and salt and pepper as needed.
Finely chop the onion. Heat up a bit more oil in the pan and fry the onion until it's translucent. Then, add the spinach and heat through. Taste and adjust for seasoning one more time, if needed. When you are ready to serve, transfer to a serving plate and top with the puffed tofu.