For my birthday, I visited my best friend from high school + her fiance in St Paul / Minneapolis. In a perfect celebration of my making it around the Sun one more time, we ate a lot of flour-based food. And went to the Mall of America. What more could you want?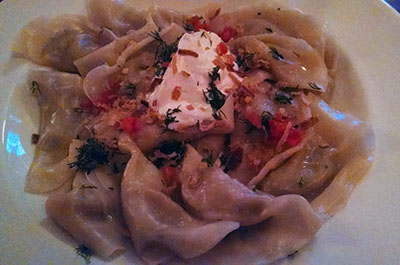 Started the trip off with these little potato and cheese filled dumplings. Topped with sour cream because why not. The Russians are a people who understand me. And yes, I did eat all of them.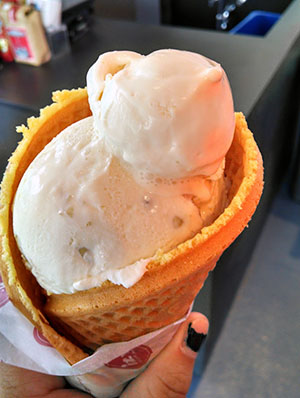 Look at the cute little scoop! At Izzy's, you get a tiny scoop on top of your normal scoop, which perfect for me, because I always want to try more flavors. The best part of this — when I got to the bottom of the cone, I found a chocolate malt ball sitting down there, presumably to keep the ice cream from dripping out. I shrieked like a child, "There's chocolate in here!" It sort of reminded me of those Japanese soft drinks that have a marble in the neck of the bottle.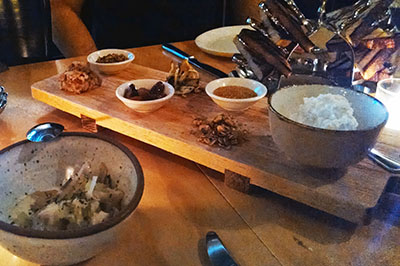 In the background, you can see the special dishware they have to hold pieces of toast (and also Phil's arm, hi Phil). It's beautiful. We topped with fish in a creamy sauce and a variety of spreads including fresh ricotta, toasted seeds, and jam. I could basically eat this all day.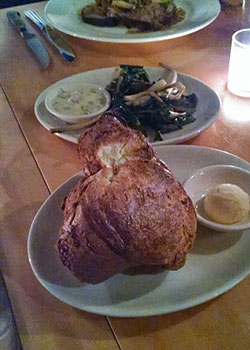 I'm devoted to popovers. And I finally tried some ramp (in the background)! I've basically been scouring Bay Area farmers' markets for years trying to find it… who knew I just had to go to the Midwest?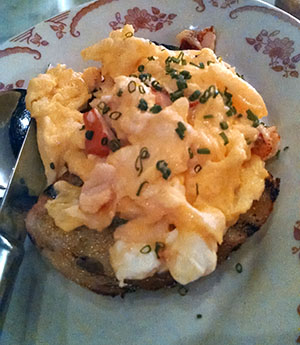 This was as good as it sounds. All soft and savory and a little truffley. You can see the chunks of cream cheese in the foreground. Oh my God. I want another one. I have to move on because I am literally drooling.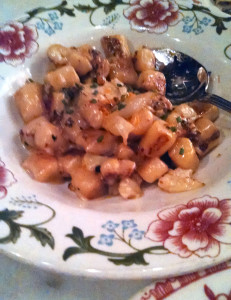 Pillowy and rich and bright from citrus. I love pasta! Bar La Grassa offered half portions of pasta, which was perfect, because we could try a bunch of them.
We ate much more (of course), but these were the only even moderately acceptable photos… maybe I should get a real camera. We also watched an entire season of Scandal, which I consider a great achievement.
Thanks, Victoria and Phil for a wonderful visit!