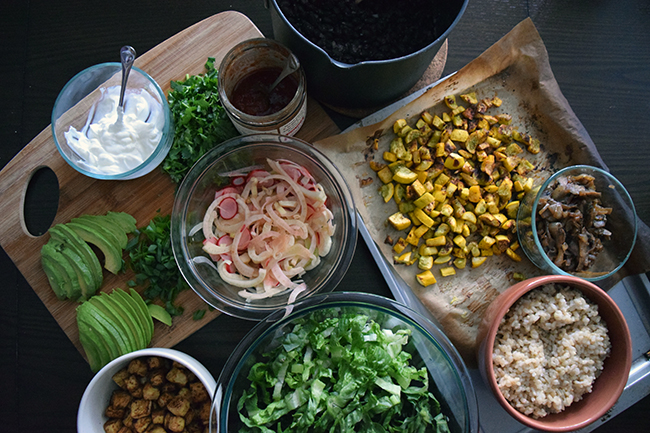 Sorry I went and mucked up something as beloved as the burrito bowl. Nothing is sacred; nothing will be spared and left un-quick-pickled in my reign of terror.
And, ironically, I write to you today hungrily from in an airplane, and all I want is an enormous Chipotle burrito bowl for some reason. I mean, I want this gussied-up burrito bowl, but perhaps my memories of my kitchen and the quick pickle have faded so that the closest thing I can visualize is Chipotle. Or, maybe I just want a damn burrito bowl. I've had a long day of trying to make it across the country with little success, so please bear with me.
But I remember this bowl fondly! It was hearty but fresh, smokey from the vegetables and tofu but piquant from the pickles, and rich from the avocado and yogurt. This one's another remix / non-recipe post, since each component was simply prepared or a small tweak on something I've already posted.
From the top, clockwise we have:
Black beans (from a can but warmed with a bit of liquid, a clove of garlic, a bay leaf, and a shake of hot sauce)
Zucchini roasted with chili powder (Cube, toss with olive oil, chile powder, salt, and pepper, roast at 375˚ until slightly charred)
Caramelized onions
Cooked brown rice
Shredded romaine lettuce
Baked tofu with chile powder and cumin
Sliced avocado, Greek yogurt, cilantro, scallions, and salsa
Quick-pickled fennel and radishes (submerge sliced radishes and fennel in lemon juice)
I like traveling, but can I go home, yet? I haven't had a vegetable in days. Miss u, veggies.