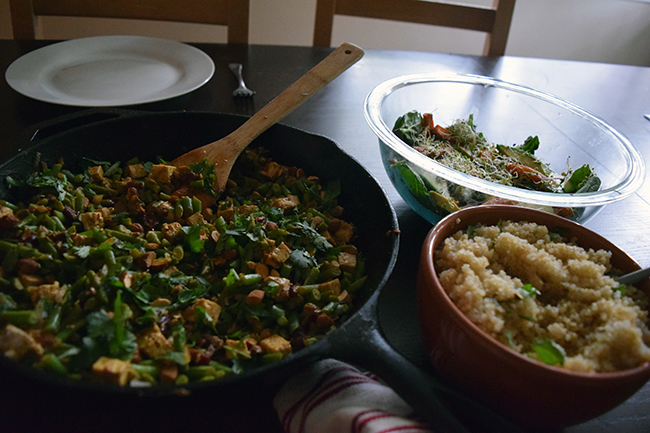 At the supermarket (Hey, sometimes I have to live my life during the farmers' market. Live your life. Take advantage of the convenience of the supermarket if necessary.) yesterday, though I searched high and low, I just could not find green beans, the wily little bastards. I loaded up on sugar snap peas, and on my way out, I saw a giant barrel (??) of green beans. You win this time, haricots verts, but I'll get you. You, and your giant barrel, too.
Sometimes, I can identify and find, vegetables, though. So here's a time that I actually did successfully grocery shop.
Possibly, green beans were the first vegetable I learned to love. When I was a kid, dining out with my family, we used to get these sensational Sichuan green beans at our old standby Chinese restaurant. And there's nothing like frying and then seasoning liberally with spicy, salty tastiness to make a vegetable scrumptious, right?
These days, while I definitely would never turn down a plate or 3 of Sichuan-style green beans, I'm more amenable to a diversity of preparations. Sometimes I still blister them (Recipe quickie: blanch green beans and then fry them in oil + XO sauce, serve on rice), because yum, but sometimes I don't, because health. Also, yum, though. Here's a recipe from the queen bee of food blogging herself that I've switched up for my tastes and what I've often got lying around.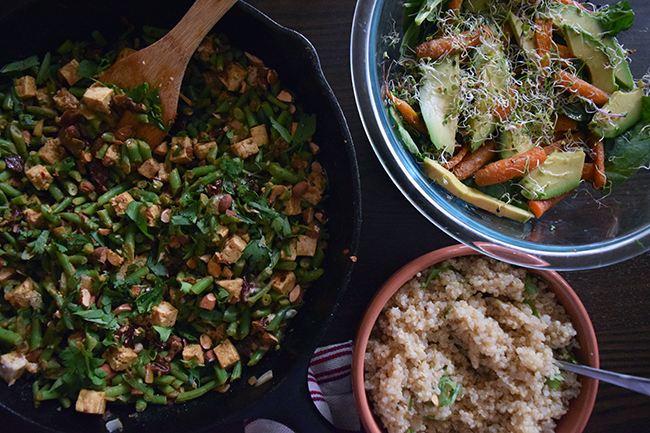 Green Bean Zing
Adapted from 101 Cookbooks
1 pound green beans, trimmed
1/3 cup dried cherries
1 tablespoon safflower oil
2 garlic cloves
1/2 medium yellow onion
3 bay leaves
1/3 cup white wine
1/2 teaspoon paprika
1 teaspoon cumin
1 teaspoon coriander
1/2 teaspoon curry powder
1/2 teaspoon salt
1/2 teaspoon crushed red pepper flakes
6 ounces firm tofu
1 tablespoon butter
1/3 cup yogurt, preferably sheep's milk
1/4 cup almonds, toasted and sliced
one handful cilantro
salt and pepper to taste
Bring a large pot water to boil.
While water's boiling, you can prepare the vegetables. Cut the tofu into slices and press, wrapped in paper towels, under something heavy (I use a cast iron pan) to drain a bit.
Slice the green beans thinly (slices smaller than 1/2 inch). Slice the garlic cloves, dice the onion, and chop the cilantro for later.
Cover the dried cherries with a bit of the hot water and let them sit and rehydrate until you need them.
Prepare a large bowl of cold water.
When the water's come to a boil, add a generous amount of salt and submerge the green bean pieces for a minute or two, until they are just barely not raw. Dunk immediately in the cold water to halt cooking.
Heat oil in a large skillet over medium heat. When the oil shimmers, add onion, garlic and bay leaves. Stir fry for 5 minutes, or until the onions and garlic are fragrant.
Add the wine and continue to cook, stirring often, until the pan is nearly dry. Remove the bay leaves.
While the wine is cooking down, remove your slices of tofu from under the weight and cut them into small cubes.
Add paprika, cumin, coriander, curry powder, salt, and crushed red pepper flakes. Add in the tofu and cherries and cook until heated through, a few minutes.
Add the butter and green beans and stir until the butter has melted. Remove from heat and stir in the yogurt, most of the almonds, and most of the cilantro. Season to taste with salt and pepper. Topped with reserved almonds and herbs and serve immediately.