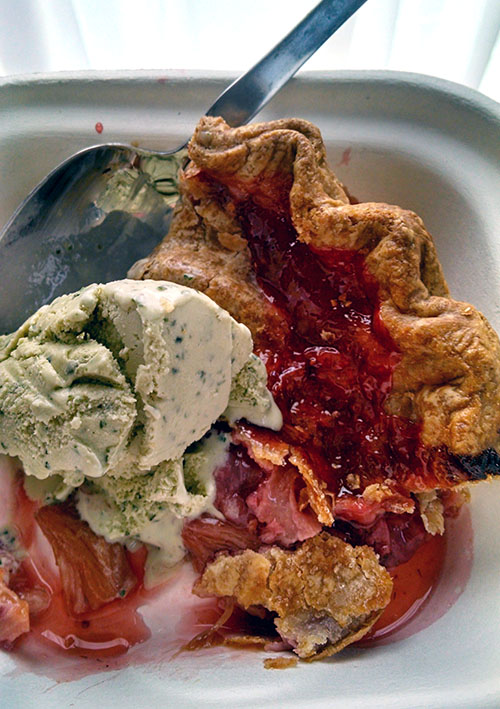 It's a scorching 55 degrees in San Francisco right now, so, let's make some ice cream, yeah?
It took me a while to get the hang of making ice cream, but once I figured it out (the trick was using way more ice cream salt), it's been very entertaining. While San Francisco's ice cream scene is pretty hot already (thanks, NYT), one can never have too many ice cream flavors.
So, basil ice cream. I had fully intended to make coconut ice cream, but then the stand at the farmers' market had $2 enormous bunches of basil, and I couldn't resist. Even after a big batch of pesto and several meals, there was still a ton, so, basil ice cream. David recommends Italian basil, which was what we happened to have. (Though, I think Thai would be pretty awesome, too.) It makes a very plant-y, very lightly spicy ice cream that's both rich and somehow refreshing. And it's very light green by the end of the process, which I liked.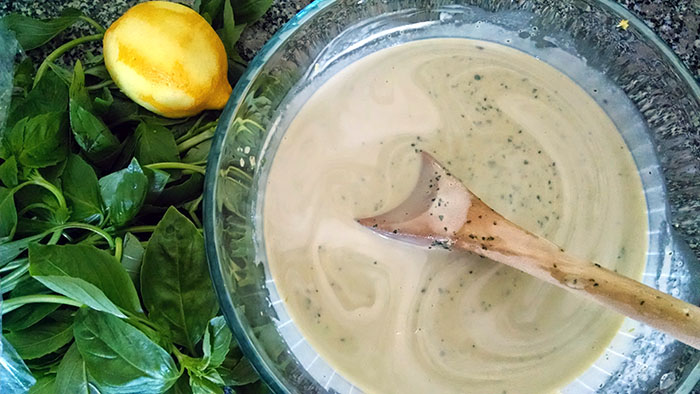 David Lebovitz's Basil Ice Cream
From The Perfect Scoop
1 cup packed basil leaves
3/4 cup sugar
2 cups heavy cream
1 cup whole milk
pinch of salt
4 large egg yolks
1 lemon
Using a food processor, grind the basil leaves, sugar, and 1 cup of cream until the basil leaves are ground as finely as possible. The mixture will be very faintly green (kind of gray) and just short of butter-consistency. Pour about half of this mixture into a large bowl with the remaining 1 cup of cream and set aside.
Warm the other half of the basil mixture in a saucepan with the cup of whole milk. Separately, whisk together the 4 egg yolks. Once the milk is hot and steaming but not boiling, temper the egg yolks by adding a little bit of milk into the egg yolks while whisking constantly. Repeat this with a little more milk each time until the egg yolk mixture is warm. Then, add the egg yolk mixture into the saucepan with the rest of the milk.
Continue to heat the custard in the saucepan, stirring slowly but constantly. Make sure to scrape the bottom of the pan as best you can while doing so. Heat until the custard reads 170 degrees F on an instant-read thermometer (a normal thermometer is too slow, and you might overdo it while waiting for its measurement). If you don't have an instant-read thermometer, you'll know the custard is done when the texture thickens. The custard will coat the back of a wooden spoon, and you'll be able to leave a definite trail if you run your finger along the spoon that the custard won't encroach on. I find it's better to air on the side of slightly less done, as the custard will continue to cook in the hot pan after you turn the heat off.
Once the custard is done, quickly pour it into the bowl with the cream. Stir to cool. Legitimate ice cream makers will tell you to cool it in an ice bath at this point, but I usually just put it next to an open window (remember, 55 degrees here) until it's room temperature. Zest the lemon right into the custard and stir. Then, chill in the refrigerator overnight.
Follow your ice cream maker's instructions to make ice cream. I have an electric one that takes ice / ice cream salt, so I don't need to freeze the machine core in advance… but I do need to make lots of ice.
Fresh out of the ice cream maker, it's kind of like soft serve. I say enjoy a little! The rest can go in a container in the freezer to harden to normal ice cream consistency.