Bread! What a feeling!
I attended a bread "skillshare" (kind of like a workshop, but slightly crunchier) over the weekend and thoroughly enjoyed myself, of course. Aside from being able to sample like ten different loaves of bread, I got to discuss my thoughts about gluten development, wild yeast, proofing, and Peter Reinhart for hours. And nobody rolled their eyes even once. I was in a carbohydrate utopia.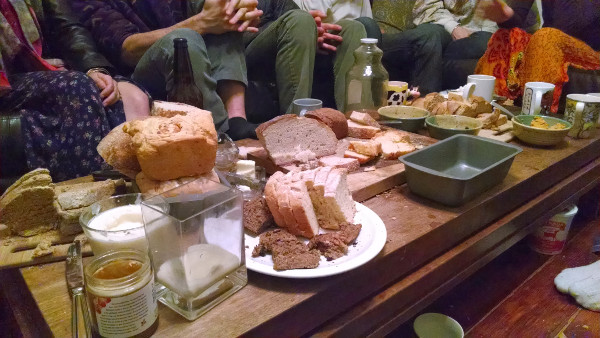 Seriously, look at all that beautiful bread and all those beautiful lower bodies.
It is difficult to describe how satisfying this bread skillshare was. I learned that bread people talk with their hands, speak fondly of their sourdough starters, and think of recipes as mere "guides," using all their senses to cook and bake. I'm a bread person, as it turns out.
I combined sourdough starters with a fellow wild yeast wrangler to make a super starter, which is now living in our refrigerator. The hope is that the yeasts will breed strong, swift, Viking-like yeast who will rise breads with great effectiveness and speed. Yum. Results pending!
I also picked up a kombucha SCOBY "daughter," which I am unspeakably excited about. My kombucha is currently (hopefully) fermenting. Crunchier and crunchier…