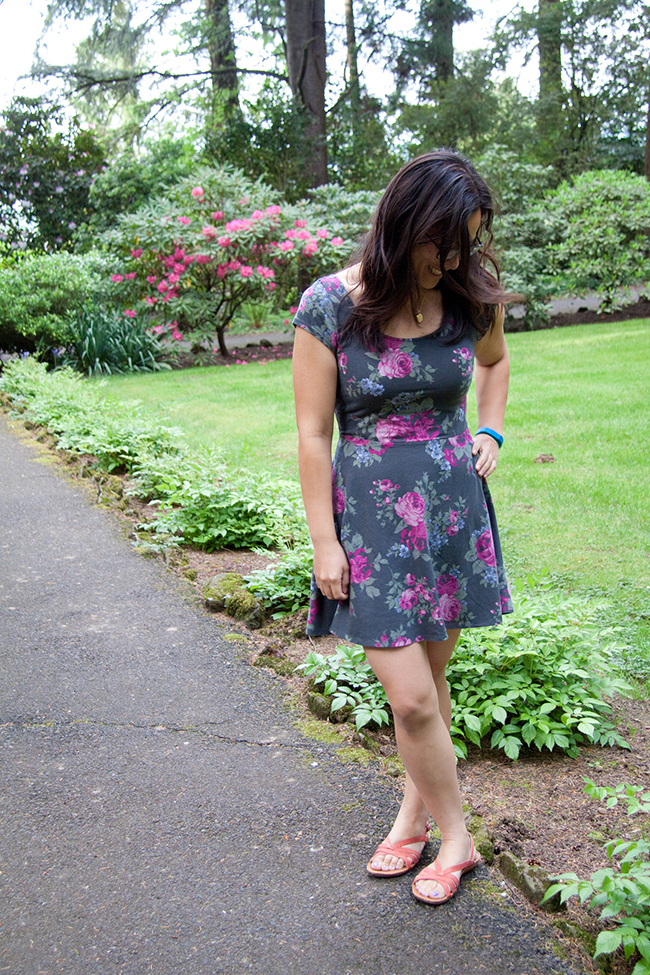 Please forgive me. First of all, with very limited warning, I have decided to masquerade as a fashion blogger. Second, I wore this cheeky necklace and a dress with a relatively large hole in the back to what is theoretically a religious space. Third, I indulged in some serious vanity while my wonderful friend Kim and I took photos of each other and also elsewhere on our recent weekend together.
That said, something that I've picked up from her is the phrase, "Live your life," so here we are. I'm trying to simply do what I want to do — you know, within the bounds of being a decent, considerate human. In the spirit of living my life, I'm taking the inspiration and energy I always get from hanging out with Kim and running with it! (Also, I feel pretty in these photos! Guys, turns out it's pretty fun to style humans in addition to food.)
During our trip to Portland (Oregon, not Maine), we stopped by The Grotto, which is I think a Catholic space, but it is also a beautiful garden that was nearly empty near closing time. Hat tip to our awesome Airbnb host who suggested it over the not-yet-in-bloom rose garden, man.
I love that both the dress and the locket are a little bit surprising — the first, for the peekaboo hole in the back, and the second, for, well, you'll see. Perfect if you, like me, are only demure on the outside.
Floral Fit and Flare Dress – American Eagle Outfitters (only $15 right now!)
Cream Knit Jacket – Dolan via Anthropologie (sold out), similar here and here
Secret Sass Locket – Locher's of Paris (mo' messages available)
Coral Walking Sandals – Olukai (srsly so comfortable)
Check out the rest of the photos from this set and Kim's fantastic style on Hello Kim Win, too! Kim: your face, I like that shit.