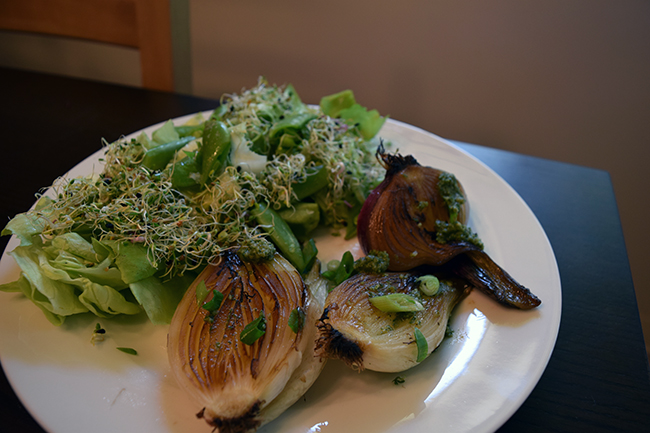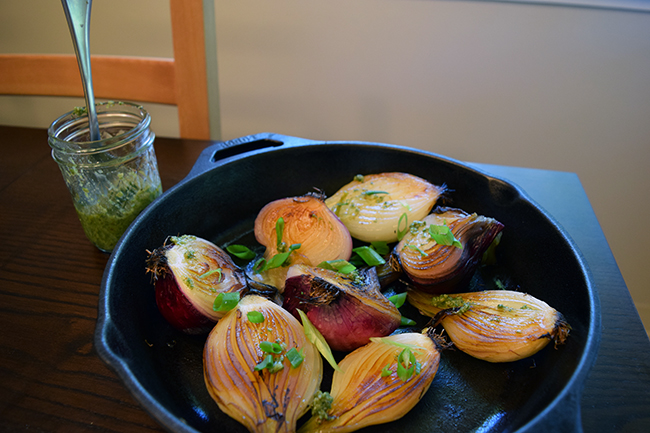 Guys, full disclosure, this is going to sound like a sponsored post, but it is not. I just have a huge girlcrush on April Bloomfield right now, after having the can't-believe-it luck to have attended a cooking demo of hers. There was a weekend not too long ago where I just cooked through as many of her recipes as possible, and then I made a reservation to eat at her one restaurant outpost on the west coast. If my eyes could be hearts, they would be.
So, her thing is nose-to-tail cooking, right? My slightly less classy version of it is… the one time that we got a rotisserie chicken from Costco, I made chicken jook with the weird bits leftover. Meat cooking is a confusing and baffling new territory, guys. But I am reasonably seasoned (hah) with root-to-leaf cooking, so I think that I am there, you know, in spirit.
Here's what cemented my crush completely, from A Girl and Her Greens, on measuring herbs by handfuls and pinches instead of traditional measurements: "I hate the idea of calling for tablespoons and cups, because thinking about someone cramming delicate herbs in a cup measure makes my bum cheeks clench."
I'll leave you with that bit of genius.
Roasted Young Onions with Sage Pesto
Adapted lightly from A Girl and Her Greens by April Bloomfield
6 young onions
Maldon salt / kosher salt / sea salt
1/2 cup olive oil
1 to 2 tablespoons safflower or grapeseed oil
a big handful of sage leaves (1 bunch)
1 clove garlic
3 tablespoons pine nuts
small handful of grated Parmesan cheese
Preheat oven to 350˚F.
Trim off the onion greens, leaving about 1/2 inch above the bulb. Peel off the outermost layer of the onion, but try to leave the nub at the bottom of the onion, which will keep it together while it roasts. If necessary, trim off the little root pieces.
Slice the onions in half lengthwise and season the cut sides with salt. (I went light on the salt, but Ms. Bloomfield recommends more.)
In an oven-proof skillet, heat up 1 to 2 tablespoons of safflower oil until it's shimmering. Lower the heat to medium and add the onions, cut side down, carefully. Let them cook, mostly undisturbed, for 10 minutes or so, until the bottoms are quite browned.
Move the pan to the oven, letting the onions continue to cook for 20 to 25 minutes. Check the under sides (cut side) of the onion periodically to make sure they are not burning.
While the onions roast, you can prepare the sage pesto by combining the sage, garlic, pine nuts, and Parmesan in a food processor. Pulse until a paste forms. Add the olive oil gradually until it becomes the desired consistency, and season with salt and pepper to taste.
When you are satisfied with the browning, remove the pan from the oven and flip the onions. Crank up the oven temperature to 425˚F and return the pan to the oven, roasting for an additional 10 to 15 minutes, until the onions are quite soft.
Serve with pesto (you'll have extra pesto) and enjoy while still warm.